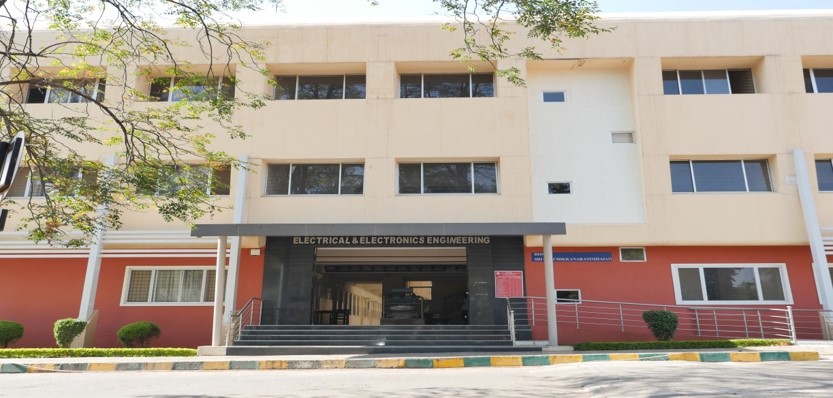 Electrical and Electronics Engineering Department caters to the needs of the U.G. and P.G students both in terms of Acadamics and Soft skills. The knowledge acquired during the courses helps them to be placed both in core and software companies.   
Post graduate students are exposed to comprehensive knowledge in Power Electronics domain which inturn helps them to carryout research activities and parallelly acquire jobs Core and software companies. They can also enter teaching profession in various Engineering colleges across India.
The Centre of Excellence in e-Mobility is established in the department in association with Greaves Cotton Limited. The MoU has been signed on 11th Feb 2020. Company has sponsored five 2-wheelers and donated accessories for the Lab. This Lab is also equipped with high end computers and related software for students to carry out their project. The Department renewed MoU with LAPP INDIA,Germany 16th Jan 2019. The LAPP INDIA has set up a lab to train students to enhance compatibility with industries in Nov. 2011.
The department is also carrying out social service programs like Suryamitra Skill development in association with MNRE and NISE, New Delhi, Solar skill based program in association with KREDL, Bangalore, I-Rise Project 2020 Suryamitra Upskilling Training Program funded by GIZ (RENAC), Germany. 
Students acquire software and hardware design capabilities which makes them efficient to face the corporate world. Some of the prominant companies who have placed EEE students are ABB, L&T, GE, PRDC,ROBERT BOSCH,WIPRO,INFOSYS, CTS and TCS etc..
About the Department
Achievements
Faculty
Infrastructure / Facilities
Research Initiatives
Industry Interface
Placements
Events and Seminars
Co-Curricular Activities and Extra-curricular activities