MOU Details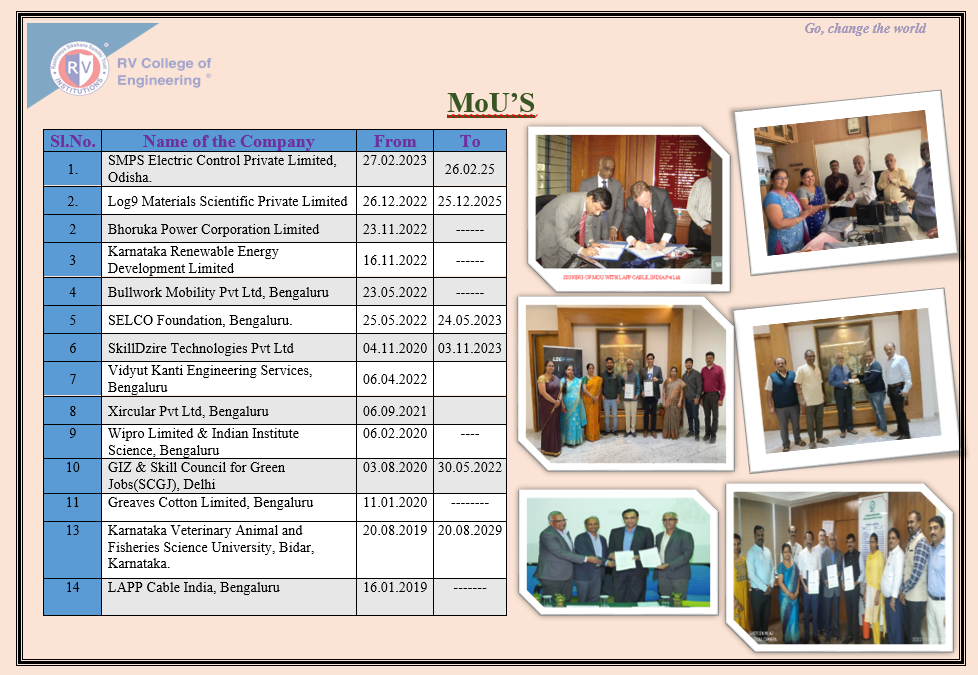 Industry Sponsored Labs
Power and Automation Technologies Laboratory (ABB Lab)
LAPP CABLE LAB
Signed and MoU with LAPP CABLE – Germany for setting up a lab, Renewed on (16th Jan 2019). They have invested to a tune of 15 lacs on the equipment where students are being trained on various methods of testing electrical cable. Plans to introduce a course on cables as an elective.

The experiments are beyond the syllabus, listed below:
HV Test
AC voltage withstand test
DC voltage withstand test
Heat shock test on LV cable
Shrinkage test
Dimension Measurement using profile projector ,
Tensile strength of the conductor
Measurement of Resistance
Thermal Ageing studies on cables
Flammability Test
Loss of Mass
The laboratory equipments include
CR meter fully automated with bridge
Digital Cr meter without temp. compensation bridge
Conventional CR meter with galvanometer, volt source and bridge
Water bath for routine HV / IR, VR test
Hot Air oven
1 cell ageing overn
Air compressor 0.5 Hp
Weighing balance 0-5 kg with 1 gm accuracy
Hot deformation tester
Flammability tester
Dumble die
Dumble cutter
Hydraulic Press
AC HV tester 0-10KV
DC HV tester 0-1.5 KV
Megger
Temsile strength testing equipment
Hot set test apparatus
Vacuum oven
Million megohm meter
Smoke density tester
Annealing tester
Profile projector
Centre of Excellence in e-Mobility:
RVCE has an MoU with Greaves Cotton Limited, signed on 11th Feb 2020. They have sponsored five 2 wheelers and given accessories for the Lab.
Lab is equipped with high end computers and related software for students to do their project .

Objectives
Details of Activities under this MOU
 Internship and Final Year Projects

Campus recruitment referred through placement

Training Program

Short Term Consultancy projects

Long Term R & D Projects

Business Model Development

Guest Lectures

Curriculum Design
Competence Development :
GCL would create competence in RVCE through its Internship and training Exchange program in the following areas :
Electric vehicle Design
Electric vehicle Architecture
Functional Safety in Electric vehicles through ISO26262
Vehicle Styling and Industrial Design
Sub Systems Design like Controller, Motor, Battery Systems, Regenerative Braking, Connected Vehicles etc.
Verification and Validation of Sub Systems and Reliability Engineering
Concepts of HALT, HAST and MEOST in Accelerated testing.
EMI/EMC of sub systems and Vehicles
Projects to be done Together:
During the 1styear of the 'COEEM' – GCL and RVCE would work on following projects :
i. Controller Design for 1.2 kw and 3 kw BLDC Traction Motors
ii. BMS Design for Lion battery
iii. CAN Based telematics Gateway Unit for Preventive Diagnostics
iv. Application Software for Special Features in EV's – IP shared by RVCE and GCL
v. Research in developing Hybrid battery solution with Ultra Capacitors
Ways of Working :
i. Interns would be taken every year at Undergraduate and Postgraduate levels from all streams including ME, EEE, E&C, CS and E&I
ii. The Interns would work between Jan~May and would use the infrastructure and software and hardware of both GCL and RVCE
iii. There would be a GCL guide and also RVCE guide for the projects
iv. The Projects would be selected based on the Industrial Viability for the project.
v. The Project would be concluded based on satisfactory achievement of the results or milestones and would be carried forward in case needed.
vi. On Specific Research / Product / Sub Systems Projects: While most of the resources would be used from GCL or RVCE; any specific investments would be mutually agreed and signed Off and milestones would be defined for achievement.
vii. viii. The Incubation Centres space would be provided by RVCE for the COEEM –Centre of Excellence for Electric Mobility.
ix. RCVE and the Interns should not work on any other similar projects during and post this engagement with GCL as per the terms of this MOU.
x. RCVE and the Interns shall not use the IPR and Confidential Information for any other projects or engagements.
MoU with University of Dortmund, Germany:
Objective is to have Students and faculty exchange program. One batch of 5 students and three professors visited RVCE during Jan-Feb 2019

Industrial Visit
Objective :
Industrial visit is to provide students an insight regarding internal working of companies.

Industrial visit has its own importance in a career of a student who is pursuing a professional degree. It is considered as a part of college curriculum, mainly seen in Engineering.

It gives them exposure to current work practices as opposed to possibly theoretical knowledge being taught at college.

Industrial visits provide an excellent opportunity to interact with industries and know more about industrial environment.

Industrial visits are arranged by colleges to students with an objective of providing students functional opportunity in different sectors like IT, Manufacturing and services, finance and marketing.

Industrial visit helps to combine theoretical knowledge with industrial knowledge. Industrial realities are opened to the students through industrial visits.
Outcome:
Industry visits bridge the gap between theoretical training and practical learning in a real-life environment.

Industry visits provide opportunity for active/interactive learning experiences in-class as well outside the classroom environment.

With industry visits, students are able to better identify their prospective areas of work in the overall organizational function.

Industry visits help enhance interpersonal skills and communication techniques.

Students become more aware of industry practices and regulations during industry visits.

Industry visits broaden the outlook of students with exposure to different workforces from different industries.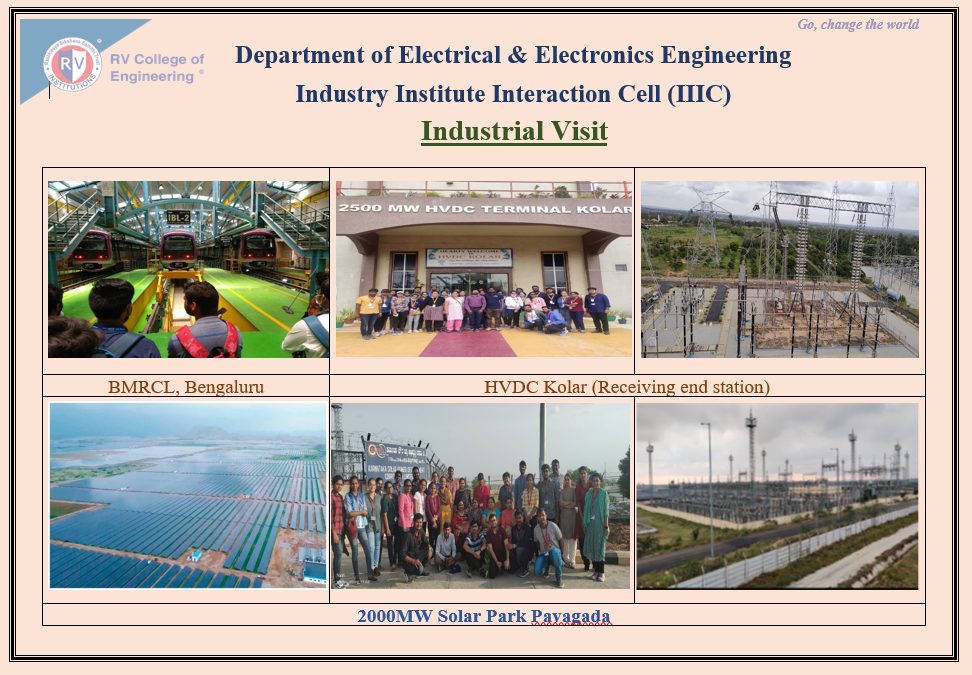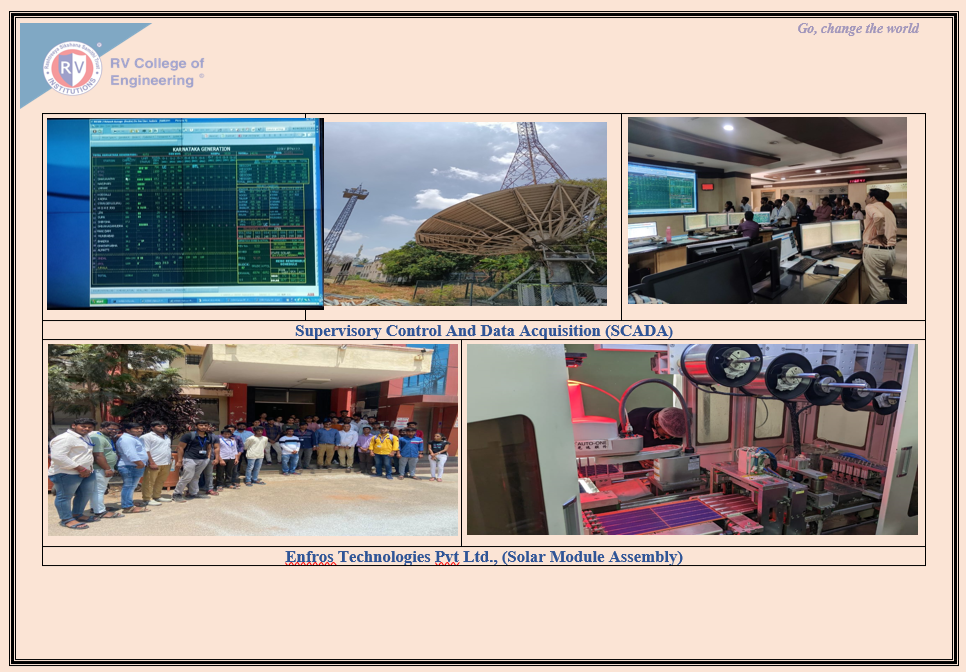 Industrial Visits(2020-21)
Sl. No.

Industry

Target Group

Date of Visit

1.

400 KV HVDC sub -station, Kolar

PG (1st and 4th  sem)

33  Students 

29.04.22

2.

 BMRCL, Bengaluru

UG (6th   sem)

73 Students 

27.05.22   

3.

2000 MW Solar power plant, Pavagada

PG  (1st and 4th  sem)

33  Students 

31.05.22
Industrial Visits(2019-20)
Sl. No.

Industry

Target Group

Date of Visit

1.

220KV receiving substation , Bangalore

UG (5th sem)

78

16.10.19 &

30.10.19

2.

400 KV receiving sub –station , Nelamangala

UG (7th sem)

65

21.11.19

3.

HVDC Power Transmission, Kolar

PG (1st & 3rd sem)

32

07.12.19

4.

JVS Electronics , Bidadi

UG (7th sem)

65

21.11.19

5.

Udupi Power Corporation, Varahi Linganamakki Dam , Sharavathi Valley Project, Varahi Under Ground Project, Hiriyur solar power plant and Chitradurga Wind Mill

UG(7th sem)

71

23.12.2019

To 27.12.2019
Industrial Visits(2018-19)
Sl. No.

Industry

Target Group

Date of Visit

1.

Integrated Electric Company , Bengaluru

UG(5th sem)

65

05.10.2018

2.

JVS Electronics , Bengaluru

UG(7th sem)

62

09.10.2018

3.

Udupi Power Corporation, Varahi Linganamakki Dam , Sharavathi Valley Project, Varahi Under Ground Project, Hiriyur solar power plant and Chitradurga Wind Mill

UG(7th sem)

69

27.12.2018

To 30.12.2018

4.

KAVIKA Transformer manufacturing Company, Bengaluru

UG(4th sem)

74

25.02.2019

&

05.03.2019

5.

Somanahalli 220KV receiving substation , Bangalore

UG(6th sem)

65

27-02-2019
Industrial Visits(2017-18)
Sl. No.

Industry

Target Group

Date of Visit

1.

Somanahalli 220KV receiving substation , Bangalore

UG(5th sem)

65

10.10.2017

2.

400KV Receiving Sub Station, Nelemanagal, Bengaluru

UG(7th sem)

62

11.10.2017

3.

ABB India Private Limited

PG(3rd sem)

13

23.0.2017

4.

KAVIKA Transformer manufacturing Company, Bengaluru

UG(4th sem)

74

27.02.2017

&

28.02.2017

5.

Integrated Electric Company , Bengaluru

UG(5th sem)

65

28.02.2017

6.

HVDC Power Transmission, Kolar

PG(2nd & 4th sem)

36

17.03.2017

7.

400KV Receiving Sub Station, Nelemanagal, Bengaluru

UG(7th sem)

62

24.03.2017
Industrial Visits(2016-17)
Sl. No.

Industry

Target Group

Date of Visit

1.

Central Power Research Institute(CPRI), Bangalore

UG(7th sem)

65

21-09-2016

2.

Somanahalli 220KV receiving substation , Bangalore

UG(7th sem)

65

21-10-2016

3.

BHEL Porcelain Division, Bangalore

UG(5th sem)

65

12.11.16

&

19.11.16
Industrial Visits(2015-16)
Sl. No.

Industry

Target Group

Date of Visit

1.

Integrated electric Pvt. Ltd., Peenya

UG(4th SEM) 65

16-10-2015

2.

Hiriyur solar power plant and Chitradurga Wind Mill

UG (4th sem)

65

17-10-2015

3.

Udupi Power Corporation, Varahi Linganamakki Dam , Sharavathi Valley Project, Varahi Under Ground Project, Hiriyur solar power plant and Chitradurga Wind Mill

UG(7th sem)

68

20-12-2015 to 26-12-2015

4.

BHEL Industrial Visit

PG (2nd sem)

18

17-12-2015

5.

Karnataka Vidyuth Karkhane, Mysore road,Bangalore

UG (4th sem) 70

21-02-2016

And

29-02-2016

6.

400kV Substation at Nelamangala.

UG(7th sem)

65

24-02-2016

7.

Scheneder Electric Company, Bangalore

PG (2nd sem)

17

01-04-2016
Industrial Visits(2014-15)
Sl. No.

Industry

Target Group

Date of Visit

1.

Integrated electric Pvt. Ltd., Peenya

UG (5th sem)

68

18-09-2014

2.

Udupi Power Corporation, Varahi Linganamakki Dam , Kaiga Atom Power Station, Sharavathi Valley Project, Varahi Under Ground Project

UG (7th sem)

62

19-12-2014

to

24-12-2014

3.

400KV Power Station in Nelamangala

UG(7th sem)

65

18-03- 2015

4.

Karnataka Vidyut Karkhane, Bangalore

UG(4th sem)

68

16-03-2015

&

18-03-2015
Industrial Visits(2013-14)
Sl. No.

Industry

Target Group

Date of Visit

 

1.

Bellary Thermal Power station, Harti Wind Mill, Gadag, Kaiga Atom Power Station, Sharavathi Valley Project, Varahi Under Ground Project

UG (7th sem)

65

17-01-2013

to

24-01-2013

2.

Integrated electric Pvt. Ltd., Peenya

UG (5th sem)

68

17-09-2014

3.

400KV Power Station in Nelamangala

UG (7th sem)

70

06-11- 2014

4.

Power grid HVDC station-Kolar

UG&PG (7th & 3rd sem) 18+18

12-04-2014

and

8-11-2104
Industrial Visit Photos