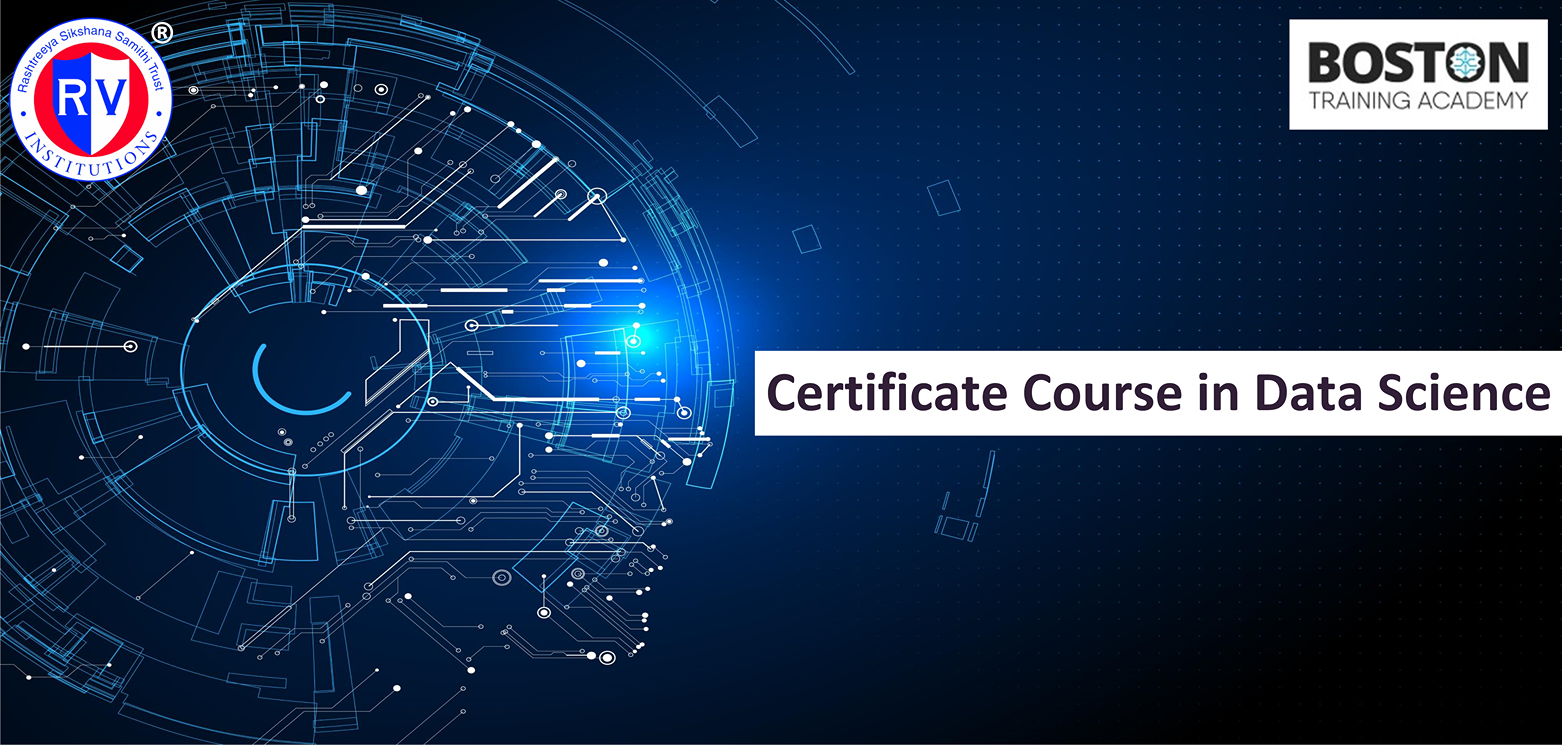 Download: Flyer    Click Here to register for the Free Orientation for Second Batch
About RVCE and Boston IT Solutions RV College of Engineering (RVCE) established in 1963 is one of the earliest self-financing engineering colleges in the country. The institution is run by Rashtreeya Sikshana Samithi Trust (RSST) a not-for-profit Trust. RVCE is today recognized as one of India's leading technical institutions. It is rated among the top five self-financing Engineering colleges in the country. Currently, the institution offers 15 Bachelor's, 16 Master's Programs and all the departments have research centers, affiliated to Visvesvaraya Technological University (VTU) Belagavi. The institution is Ranked 70th in the Country by the National Institutional Ranking Framework (NIRF) during 2019-20 and QS-IGUAGE - DIAMOND University Rating (2021-2024). Most of the UG programs and eligible M. Tech. & MCA programs have been accredited by NBA multiple times. The institution has to its credit over 1500 National and International Journal publications, filed over 50 patents, 44 published patents, 5 patents granted, and completed sponsored research and consultancy projects worth ₹. 20.0 crores in the last three years. Established Centers of Excellence in Macro-electronics, Internet of Things, Automotive Mechatronics, e-Mobility, Quantum Computing, AI & ML, CCTV Research, Smart Antenna Systems, and Computational Genomics. The College currently has a student strength of more than 5500, faculty strength of above 350, a technical administrative Staff of about 230, and around 350 Research Scholars pursuing Ph.D.
Boston IT Solutions India Pvt. Ltd, having its registered office at Unit 64, Ground floor, Railway Parallel Road, Kumara Park West, Bengaluru, Karnataka 560020, has been operating in India since 2009. Boston India has been growing steadily since its inception and now has an on-ground presence in India, with key locations being at Mumbai, Hyderabad, Chennai, and Delhi. Boston Limited, its parenting company, was founded in 1992 in London, UK. Boston has expanded its operations globally and has been providing training in I.T. solutions and AI training for a long time. Its high-performance, mission-critical server, and storage solutions are tailored for each specific client, helping create ideal solutions. Boston India helps clients to solve the most challenging business problems effectively from the initial specification, solution design, and even full custom branding.
Program Contents
RV College of Engineering (RVCE), Bengaluru, in association with industry partner Boston India Pvt. Ltd., developed a high‐involvement career‐oriented certification course in Data Science. The syllabus covers the complete life cycle of data science by using innovative teaching techniques and cutting-edge technologies

Program Highlights
How this Program is Unique?
•    Designed by Industry Experts
•    Both online and Offline Classes
•    Content delivery by Industry and Academic Experts
•    Mentoring by Industry Experts
•    Live Projects as a Capstone Project
Who can Apply ?
•    Individuals with a bachelor's degree and keen on learning AI and Data science
•    IT/ Working professionals looking for a career transition and upgradation
•    Freshers/ Students, who aspire to build their career in the field of Artificial Intelligence and Data science
•    Project Managers and Business Analysts
Programming Languages and Tools Covered

Course Fee: Rs.60000/- + GST                                            
Easy Two Installments are Available
Launching for 2nd batch-   Feburary 2023
3rd Batch is Commencing Soon

Send the Copy of the Payment Details to the 9844488329/ 9941124847
Career Opportunities

Contact Details
Dr. B. Sathish Babu - Professor and HoD, Dept. of AIML, RVCE
Ph. 9844488329/ 9941124847
E-mail: hod.ai@rvce.edu.in, bta@bostonindia.in