From the Desk of Dr. S.G. Srivani, Incharge HoD (Electrical and Electronics Engineering)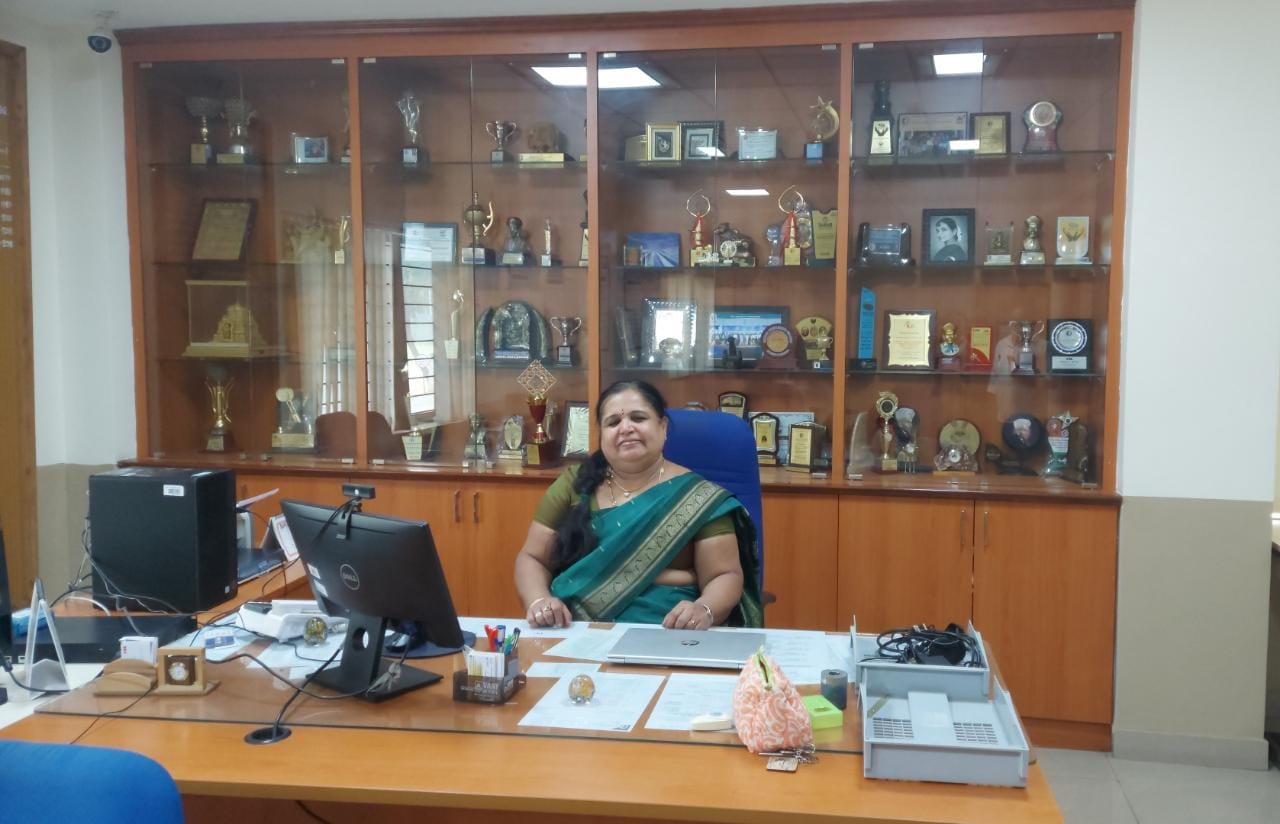 The Department of Electrical and Electronics, is one of the oldest departments at RV College of Engineering. Established in the year 1963, the department has well qualified, passionate and dedicated staff, most of who are engaged in path breaking research and development. Department has current annual intake of 60 students and lateral entry students from all parts of India.
The Course at the Department, is a healthy amalgam of Power Engineering, Analog and Digital Electronics and Computer Science Engineering, comprehensive and in keeping modern trends of Electrical and Electronics Engineering education. Course pattern at the department is planned to keep the students up to date with the recent trends and shifting technological paradigms, making them industry ready.
The UG and PG Programs are accredited by National Board of Accreditation (NBA). The department well quallified and dedicated faculty with various specializations. The department has high faculty retention ratio. Majority Students are placed in renowned companies with high package.
VISION
Attain technical excellence in Electrical and Electronics Engineering through graduate programs and interdisciplinary research related to sustainability in power, energy and allied fields.
MISSION
To provide technical education that combines rigorous academic study and the excitement of innovation enabling the students to engage in lifelong learning

To establish Center of Excellence in sustainable electrical energy , smart grids and systems.

To establish tie-ups with industries and institutions of repute and to foster building up of a wide knowledge base to keep in tune with upcoming technologies.

To motivate commitment of faculty and students to collate, generate, disseminate, preserve knowledge and to work for the benefit of society.

To develop simple, appropriate and cost effective inclusive technologies which are instrumental in the up-liftment of rural society.
Programs Offered:
UG Program:
Bachelor of Engineering in Electrical & Electronics Engineering (EEE) with approved intake of 60 students and a lateral entry of 10% from 2nd year.
PG Program: 
M.Tech Programme in Power Electronics with approved intake of 18 students.
Research Programs:
B.E. ELECTRICAL AND ELECTRONICS ENGINEERING
PROGRAMME EDUCATIONAL OBJECTIVES:
PEO1: To provide a strong foundation in Mathematics, Science and Engineering fundamentals as well as comprehend, analyze, design, innovate and develop products for real life applications.
PEO2: To inculcate ethical attitude, effective communication skills, leadership qualities and team spirit for a successful professional career with concern for society.
PEO3: To provide a holistic academic environment to foster excellence, entrepreneurship and multidisciplinary approach to inculcate an aptitude for research and lifelong learning.
PROGRAMME OUTCOMES:
1. Engineering knowledge: Apply the knowledge of mathematics, science, engineering fundamentals, and an engineering specialization to the solution of complex engineering problems.
2. Problem analysis: Identify, formulate, review research literature, and analyze complex engineering problems reaching substantiated conclusions using first principles of mathematics, natural sciences, and engineering sciences.
3. Design/development of solutions: Design solutions for complex engineering problems and design system components or processes that meet the specified needs with appropriate consideration for the public health and safety, and the cultural, societal, and environmental considerations.
4. Conduct investigations of complex problems: Use research-based knowledge and research methods including design of experiments, analysis and interpretation of data, and synthesis of the information to provide valid conclusions.
5. Modern tool usage: Create, select, and apply appropriate techniques, resources, and modern engineering and IT tools including prediction and modeling to complex engineering activities with an understanding of the limitations.
6. The engineer and society: Apply reasoning informed by the contextual knowledge to assess societal, health, safety, legal and cultural issues and the consequent responsibilities relevant to the professional engineering practice.
7. Environment and sustainability: Understand the impact of the professional engineering solutions in societal and environmental contexts, and demonstrate the knowledge of, and need for sustainable development.
8. Ethics: Apply ethical principles and commit to professional ethics and responsibilities and norms of the engineering practice.
9. Individual and team work: Function effectively as an individual, and as a member or leader in diverse teams, and in multidisciplinary settings.
10. Communication: Communicate effectively on complex engineering activities with the engineering community and with society at large, such as, being able to comprehend and write effective reports and design documentation, make effective presentations, and give and receive clear instructions.
11. Project management and finance: Demonstrate knowledge and understanding of the engineering and management principles and apply these to one's own work, as a member and leader in a team, to manage projects and in multidisciplinary environments.
12. Life-long learning: Recognize the need for, and have the preparation and ability to engage in independent and life-long learning in the broadest context of technological change.
PROGRAM SPECIFIC OUTCOMES
PSO1 : The B.E EEE Program must demonstrate knowledge and competence in the application of circuit analysis, control systems, field theory, analog and digital electronics, Power Electronics, microcontrollers , microprocessors,  Signal processing and conditioning, computer hardware and software to the design, building , testing, protection and operation of electrical machines, power systems, electrical and electronic systems.
PSO2: The B.E. EEE Program must demonstrate knowledge and competence in the application of basic sciences, rigorous mathematics and project management techniques in the design of complex electrical and electronic systems.
PSO3: The B.E. EEE Program must demonstrate the ability to effectively work in a team, communicate correctly and develop an ethical attitude and concern for society and environment. 
M.TECH POWER ELECTRONICS
M.Tech in Power Electronics (MPE) started as a full-time Masters degree programme in the year 2006 with an intake of 18 students. The programme is aptly designed to provide the students with necessary impetus to pursue interdisciplinary R&D, corporate/industrial consultancy and entrepreneurial activities. The students have access to state-of-the-art equipment and laboratories such as Power Electronics Lab, Industrial Drives Lab, PLC/SCADA Lab and Renewable Energy Lab, enabling them to hone their technical expertise through practical exposure. A Centre of Excellence (CoE) in e-mobility has been established in collaboration with Greaves-Cotton, with the goal of providing on-hands exposure in design and development of Power Electronic Controllers for Electric Vehicles.
The programme offers a unique opportunity to its participants to gain industrial exposure by undertaking real-world projects under the aegis of MoUs with renowned corporate firms such as Bosch-Rexroth AG, Lapp India Pvt Ltd. and FluxGen. The students also benefit from the internship programmes offered by distinguished companies such as ABB, Nokia Siemens, Centum, Schneider Electric, Robert Bosch, Larsen & Tubro, FluxGen, etc. Students get enhanced placement opportunities in emerging sectors such as Renewable Energy, Industrial Automation, Electric Vehicles and Power System Protection and Control. The alumni are also employed in various Public, Private and Educational institutions. Maximum salary offered by industries varies from 7 to 21 Lakhs per annum.
The curriculum of the programme is fine-tuned and regularly upgraded to keep relevance with the research areas in vogue and dynamic industry requirements. The programme offers subjects such as Power Electronic Converters, AC/DC Drives, PLC/SCADA, Modelling and Simulation of Power Electronic Systems, Hybrid Electric Vehicles, Intelligent Control of Drives, Electromagnetic Interference and Compatibility, etc. M.Tech students get an opportunity to develop and showcase their technical talent through regular industrial training programs/ visits, seminars, workshops and conferences conducted by the department and institution. Further, students are also encouraged to publish and present their work in international conferences, symposiums and journals of repute.
PROGRAMME EDUCATIONAL OBJECTIVES (PEO):
M.Tech in Power Electronics Graduate will be able to
Design, implement, protect, test and validate systems for Power Electronic Applications in Electric Drives and Power & Energy Systems.

Apply basic and advanced engineering knowledge to solve complex problems for integrated industrial power electronic systems.

Pursue research, communicate effectively, imbibe professional ethics and a desire for life-long learning.
PROGRAMME OUTCOMES (PO):
M. Tech. in ­­­­Power Electronics graduates will be able to:
PO1: Independently carry out research /investigation and development work to solve practical problems in Power Electronics.
PO2: Write and present a substantial technical report/document.
PO3: Demonstrate a degree of mastery over Power Electronics at a level higher than the requirements in bachelor program of Electrical Engineering.
PO4: Demonstrate the modern engineering tools and techniques for Modelling and Development of Power Electronic Systems.
PO5: Apply the Knowledge of Power Electronics for the development of solutions to problems pertaining to Smart grid, Renewable energy systems, Electric Vehicles and Modern Power and Control Systems.
PO6: Demonstrate Professional Integrity, Ethics, Teamwork, Soft Skills for lifelong learning and sustainable development in the field of Power Electronics.
Research Avenues:
The department is a recognized research Centre under VTU, with provision for MSc (Engg), Ph.D (Full time & Part time) scholars. Both PG & UG students are encouraged to take up interdisciplinary research in various domains like, Control systems, Image processing, Power electronics, Renewable Energy, DSP, Power and Energy and its allied fields. The students are given opportunities to carry out innovative projects and the state of the art facilities are available for the same. The Department has also Industry based labs and Center of Excellence in e Mobility.
The selection of course material and topics is a reflection of the changing trend in the study of classical power engineering subjects, all over the world. It is a reflection of the ever increasing permeation of electronics and computers in the practical electrical engineering field. The course is a healthy amalgam of power engineering, electronics and computers. As the title of the course indicates, the course coverage is comprehensive, covering power engineering, electronics, instrumentation and software.
ROAD MAP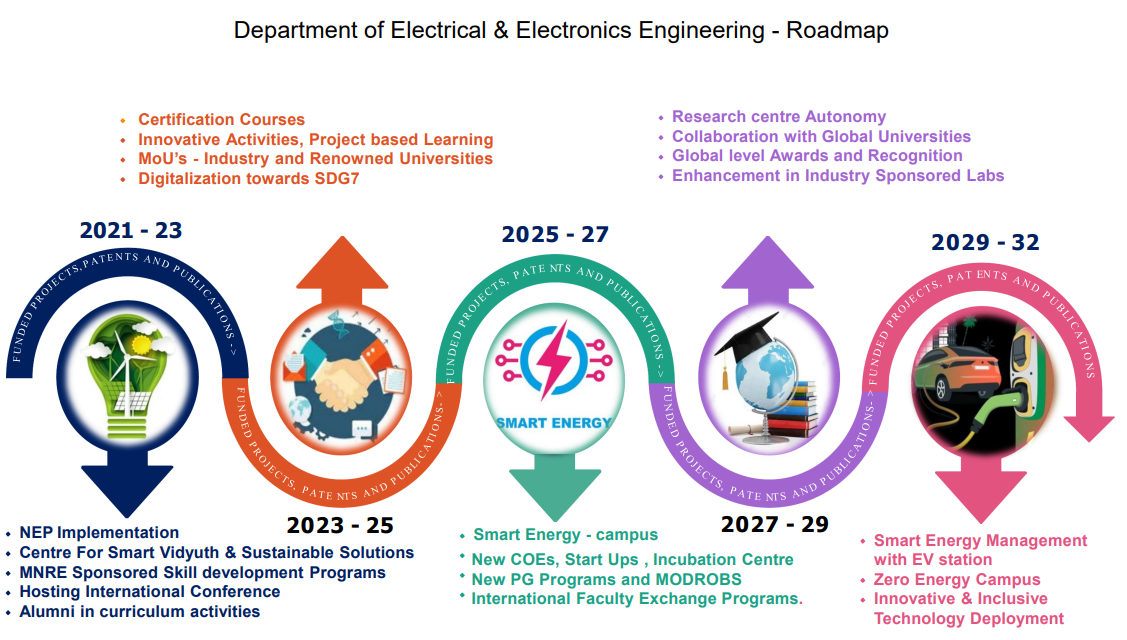 Year Established
 

Year of Est.

Intake

Grant of Autonomy

Under Graduate

1963

60

2007

Post Graduate

2006

18

2016

Research Centre

2012 under VTU

 
Accreditation Details
 

Program Name

Year of Accreditation

Period of Validity

 

Under Graduate (B.E)

 

 

Electrical and Electronics

2003

3 years

2007

3 years

2013

2 years

2017

3 years + 1 year Extension

2021

3 years

Post Graduate (M.Tech)

Power Electronics

2017

2 years + 1 year Extension
UG Admission Details
Item

 

CAY

(2022-23)

CAY M1

(2021-22)

CAY M2

(2020-21)

CAY M3

(2019-20)

Sanctioned Intake (N)

60

60

60

60

Total no. of students admitted in first year – Branch / Institution change + No. of students migrated to this pgm (N1)

 

60

 

65

 

60

 

66

Lateral entry (2nd Year) (N2)

06

06

06

06

Supernumerary Quota (N3)

03

03

03

03

Total number of students admitted in the program (N1 + N2 + N3)

69

74

69

75
PG Admission Details
Item

 

CAY

(2022-23)

CAY M1

(2021-22)

CAY M2

(2020-21)

CAY M3

(2019-20)

Sanctioned Intake of the program(N)

18

18

18

18

Total number of students admitted through GATE (N1)

02

00

04

 

04

Total number of students admitted through PG Entrance and others (N2)

16

16

14

14

Total number of students admitted in the program (N1+N2)

18

16

18

1
Research Centre Details
No. of Eligible

Guides

No. the Candidates Registered

Ph.D.

M.Sc. (Eng.) By Research

08

29

01