About The Department of Chemical Engineering

Department of Chemical Engineering was started in the year 1982 to meet requirements of the emerging discipline of Chemical Engineering. Since inception it has been accredited by NBA twice for five years from 2003-2008 & 2008-2013 & twice for three years from 2015-2018 & 2018-2021. The department offers BE Chemical Engineering under graduate, MSc(Eng) & PhD research programs. The Undergraduate BE program in Chemical Engineering is autonomous program affiliated to Visvesvaraya Technological University, Belagavi. Since 2002, the department is a recognized VTU research centre. So far four MSc(Eng) by research and nine PhDs have been awarded through the research centre.

The department has teaching faculty with specialization in Chemical Engineering, Process Engineering, Equipment Design, Process and Product Design, etc with ten are Ph.D. holders and two pursuing Ph.D. The department has student chapters under Indian Institute of Chemical Engineers – IIChE, Electrochemical Society – ECS, and Indian Plastic Institute – IPI. The department started Centre for Hydrogen and Green Technology in March 2021.

Chemical Engineering has its origin in oil refining and petrochemical production while Chemical Engineers today are engaged in highly diverse activities ranging from regenerative medicine and food processing to searching for solutions to the global energy and water crisis. During this transition the scope for the application of chemical engineering principles has expanded encompassing IoT, Artificial Intelligence, Big Data and much more. Chemical Engineers deal with processes that involve chemical reactions. While chemists strive to find new pathways to desired end products and to investigate mechanisms of reactions, role of the Chemical Engineer is to translate this information to design processes that must not only be economically viable but should also increasingly demonstrate minimal environmental impact. Chemical Engineers work in a wide range of industries, including: oil & gas refining, pharmaceuticals, healthcare, plant design and construction, petrochemicals, food processing, speciality chemicals, personal care, cleaning products, paints, plastics, textiles, biotechnology, agrochemicals, environmental engineering, wastewater treatment and many more. The current UG program provides a glimpse of these diversifications and focuses on strengthening the core chemical engineering concepts.

The department has to its credit 2000 plus citations, 80 plus publications in Scopus indexed journals and close to 150 paper publications in other peer reviewed journals. Four patents are granted, three are published and two are filed till date. A total grant up to 703 lakh INR is sanctioned by various funding agencies such as DST, DRDO, NRB, etc in the last 10 years. Our students have bagged more than 20 awards for best projects and best students.

 
Vision
Imparting quality education in Chemical Engineering to promote leadership in research, innovation and sustainable technologies through team work.
Mission
Impart quality education in basic and applied areas of Chemical Engineering.
Enable students and faculty to achieve proficiency in the areas of Chemical Processes, Energy, Unit Operations and Computational Chemical Engineering using state-of-the-art laboratories and modern infrastructure.
Encourage faculty and students to make career in research and contribute towards innovative processes and products.
Develop inclusive technologies with a focus on new materials and sustainability.
Collaborate with industries and research institutes for academics and research.
Inculcate leadership qualities, entrepreneurial skills, societal and ethical values in students and faculty.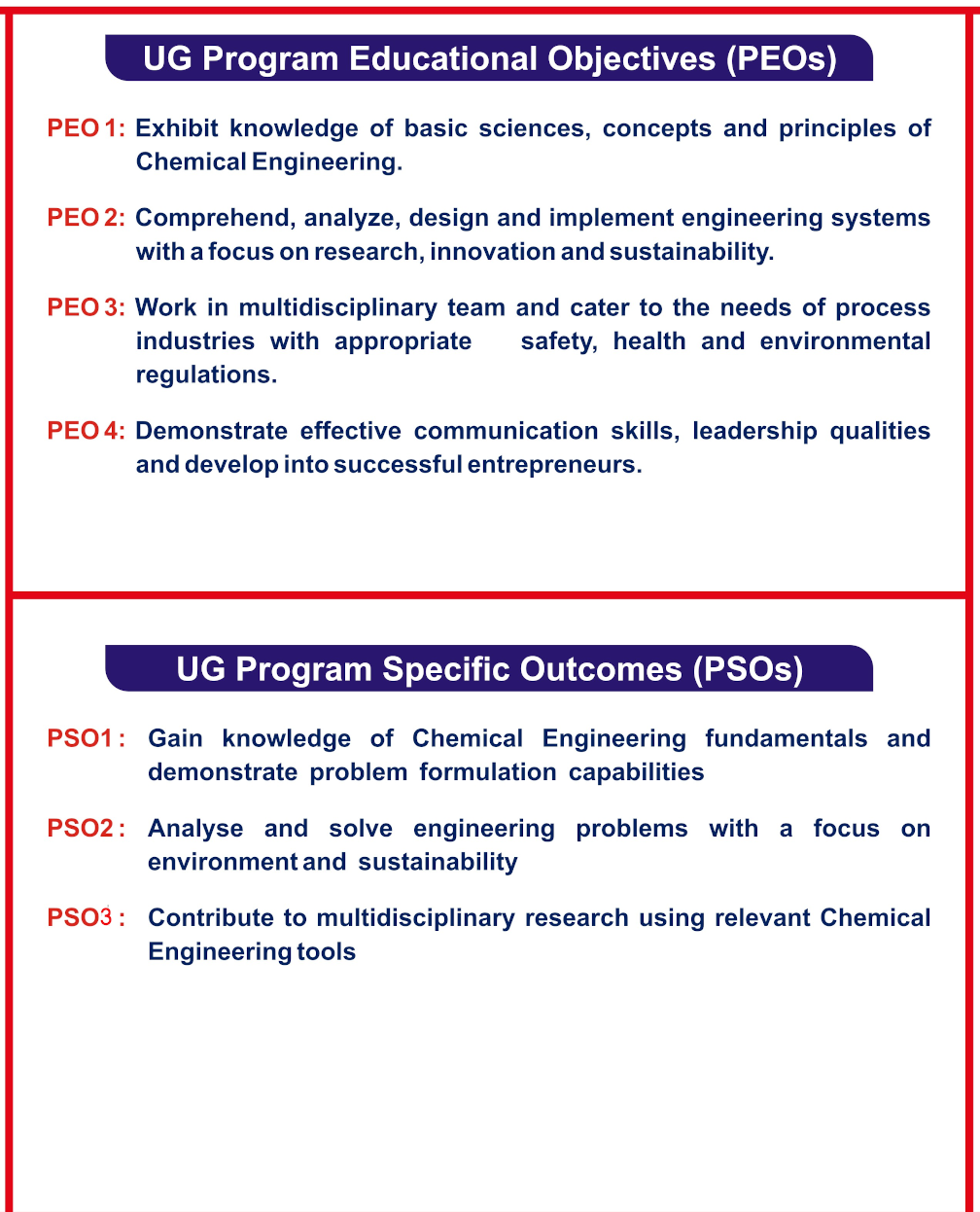 Programs offered
Bachelor of Engineering in Chemical Engineering: Approved Intake: 40
M.Sc.(Eng) by research
Doctor of Philosophy
Road Map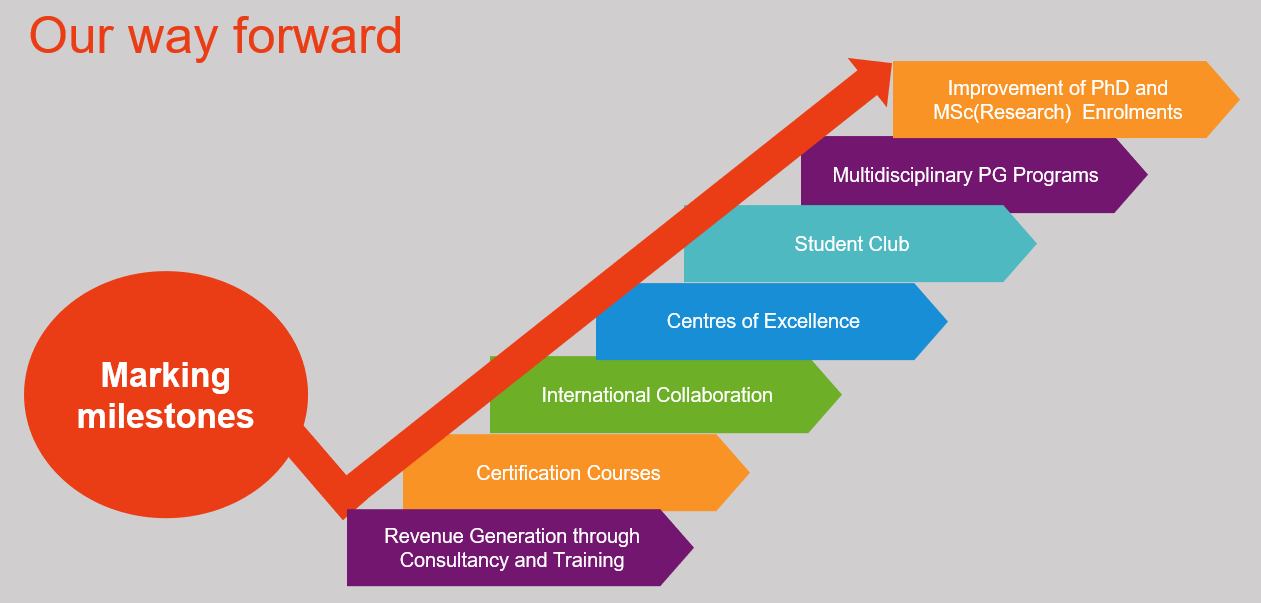 Go Back]