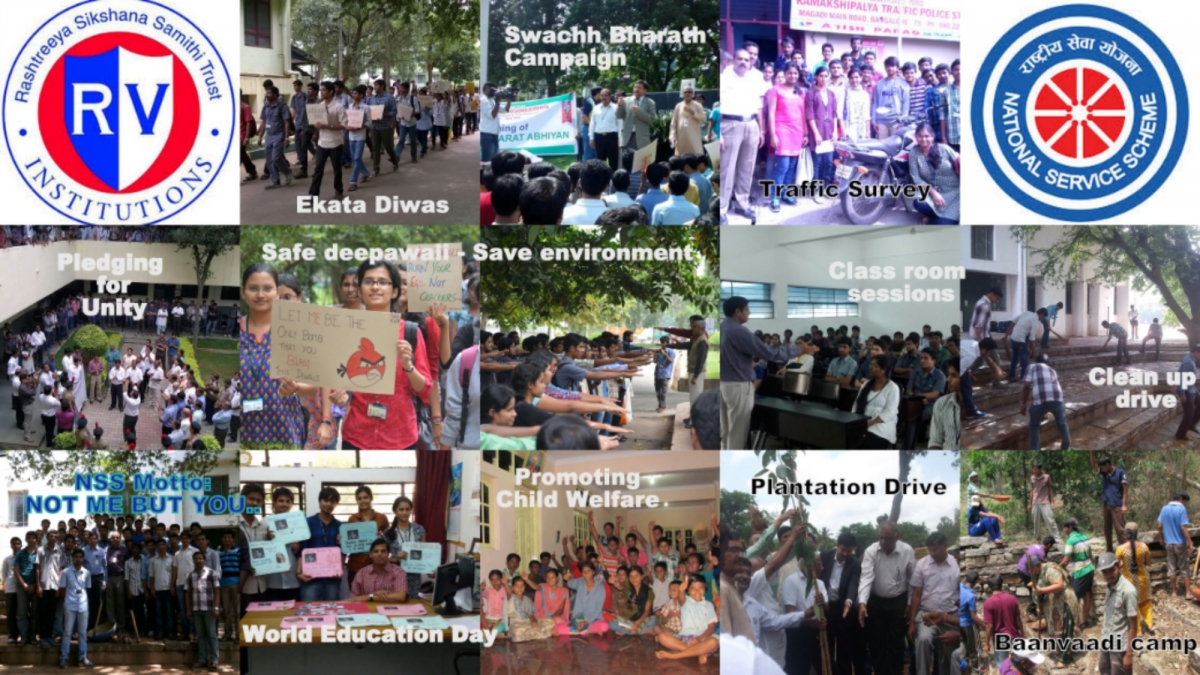 NSS RVCE ACTIVITES: 2019 - 2020
 

JAL DIVAS (22nd July, 2019)

Jal Divas was organized at RV College of Engineering Bengaluru. The function was inaugurated by lighting of the lamp. The Chief Guest, Mr Venkatesh Sanganal, water activist and volunteer in Jala Samrakshana Samithi explained about water scarcity in India and sustainable water management. The attendees gained a broader outlook and became aware of the situation of water resources in the country.

 

 

    2. STEM CELL DONATION DRIVE (30th July 2019)

NSS RVCE organized stem cell donation camp to spread word about the importance of fighting against blood cancer and other blood disorders. It was an awareness and pledging activity, organized in coordination with DKMS-BMST, a non profit organization - dedicated to fight against blood cancer, where students were given insights on the same. Also, all the students gave mouth swabs for sample.

    3. ROAD SAFETY ACTIVITIES (6th August, 2019) 

Road safety awareness program was conducted to educate students on methods of reducing road accidents. A panel discussion on ― "Reducing Road Traffic Injury in Bengaluru City" was hosted at the new sports complex. A wide range of experts from industry, academia and Head of City Traffic police were invited to discuss the same.  A number of competitions like Ad-Mad, Poster making, Art competition etc were conducted on the theme of Road Safety. The competition was judged by experts from RVCE and ROBERT BOSCH, followed by awarding students.

4. ENVIRONMENTAL ACTIVIIES (9th August 2019)

NSS RVCE conducted environmental activities like Clay Ganesha, Seed
Ball, Paper bag making, Plantation drive and cleanliness drive as a part of
induction program for the first year B.E. students. The message of "Swachh
Bharat Abhiyaan" was iterated through this. The eco-friendly idols
crafted were later distributed to promote eco-friendly Ganesha idols.

5. RAKSHA BANDHAN DIVAS (16th August 2019)

The auspicious festival of Raksha Bandhan was hosted. The main agenda of this event was to promote the Hindu culture of purity of the bond shared between brothers and sisters. On the day, the Principal of RVCE, Dr. K N Subramanya and Dean of Academics, Dr. Shanmukha Nagaraj also participated and were tied rakhis by other staff members.

6. SADHBHAVANA DIVAS (20th August 2019)

Sadhbhavana Divas was celebrated at RV College of Engineering, Bengaluru in front of Administrative block. NSS and NCC units of RVCE organized the programme. Around 30 students participated in the Programme and took the pledge to live with peace and harmony. Faculty and office staff were also present.

7. ROAD SAFETY COMPETITION IN RVITM (24th August 2019)

NSS RVCE organized various competitions in the newly opened RVITM College in JP Nagar. A number of competitions like Poster Making, Ad-Mad, Painting competition were organized. New innovative activities motivated the students to follow the traffic rules and to create awareness on road safety to others. Thus, the objective of sensitizing and giving knowledge on road safety was met.

8. NSS PRE-REPUBLIC DAY SELECTION CAMP (4th-7th September, 2019)

Republic Day Parade Camps have proved to be a boon for the personality development of NSS Volunteers of the country. The volunteers are imparted training in leadership development and March-Past parade apart from organizing various socio-cultural programmes. As the participants from all states & UTs participate in this camp, the NSS R.D. Camp replicates a MINI INDIA to the nation's capital from 1st -31st January every year.

9. VILLAGE VISIT (INDUCTION PROGRAM) ((4th-7th September, 2019)

Students were taken to different villages to learn about the village activities and programmes adopted by the fellow villagers to progress through development. Students were divided into groups and taken to 9 different villages. The objective of this event was to educate students about village life and to identify problems in villages, so that engineering students can take up the projects to give solutions for the same.

10. NATIONAL CONFERENCE, VTU, BELAGAVI (7th September 2019)

The NSS cell of Visvesvaraya Technological University, Belagavi in association with TEQIP 1.3, organised a two day national conference on – "Role of Social service in the changing perspectives of new education system" at the Jnana Sangama. Various dignitaries graced the conference inauguration including the state and regional NSS officers. NSS RVCE students and Program officer participated and presented their papers in the conference

11. STEM CELL DONATION DRIVE (20th September, 2019)

 

NSS RVCE recognizes the importance of fighting against blood cancer and other blood disorders and thus organized an awareness and pledging activity in coordination with DKMS-BMST, a non-profit organization dedicated to fight against blood cancer. Upon completing the pre medical checkup, the potential donors were instructed to approach any one of the NSS volunteers who collected the swabs and the registration form. A unique bar-code was stickered onto the registration form, carbon copy of the registration form, the envelope containing the swab and the ID card were given.

 

12. PLOG RUN (2nd October, 2019)

NSS RVCE was part of a first-of-its-kind national initiative called the India Plog Run 2019, in association with the United Way India, which was held, aiming to combat the growing threat from plastic pollution including the most powerful stakeholders in environmental conservation: Citizens. Volunteers assembled at Kengeri railway station at 6.30 am. The session started with Yoga, following which cleanliness kits were distributed. Volunteers collected waste plastic items from road side and dumped it at designated places, which was later sent for recycling.

13. Go Green Drive (2nd October 2019)

NSS RVCE, in association with ASCE Student Chapter RVCE, conducted the 'Swachh Bharat Go Green Drive' on 2nd October, 2019 at Cubbon Park, considered the heart of the city Bengaluru. The aim was to reach out to citizens belonging to all age groups, studying/retired/working sector and create the go green awareness in them. A survey was conducted, to ascertain the outlook of general public about the need and aspects of cleanliness.

14. Karnataka Blind Cricket Tournament (19th October, 2019)

State level Blind Cricket Tournament was organized at RV College of Engineering on 19th October 2019, followed by the finals at SJBIT College on 20th October, 2019. The tournament was organized in association with two NGOs, viz Maarga and SAKSHAM. Twelve teams from all over Karnataka took part, which included Ramanagara, Davangere, Kolar, Bidar, Bagalkote among others. The event was preceeded by an eye check up and assignment of different level to the players, based upon the level of their vision. Runs scored by level 4 players (least vision) were multiplied by 2 for score calculation.

15. PLASTIC AWARENESS DRIVE (24th October, 2019)

NSS RVCE organised an awareness drive for plastic waste in the month of october, 2019. First of all, students were informed about the upcoming drive. "Plastic Only" waste boxes were kept at different locations of the college. Recyclable plastic waste materials, like plastic bottles, pens, plastic containers and so on were dumped in these boxes. Separate plastic waste collection system was initiated. Conduction of this ―Plastic awareness drive, has created a sense of proper disposal of plastic waste amongst all students and staff at RVCE. Also, the recycling of this amount of plastic can help in the formation of a wide range of recycled products.

16. TOYOTA HACKATHON (25th – 26th November, 2019)

TOYOTA Hackathon 2019- Code for safer India by Indian Road Safety Campaign in collaboration with NSS RVCE and Toyota was held in R.V College of Engineering on 25th – 26th November, 2019. Students of standard 9th and 10th from 50 schools participated in this 36 hour competition. Prototypes were presented from 23:00-1:00am, top ten teams were announced from 13:00-13:30 pm and the selected teams presented their ideas about road safety aspects from 14:30-16:30 pm. The event was concluded with a beautiful cultural performance from the CAT community of RVCE. Overall, it may be said that the Toyota Hackathon was a success that left the students as well as the volunteers with a lifetime of memories, experience and knowledge.

17. NATIONAL YOUTH DAY (12th January, 2020)

NSS RVCE conducted the National Youth Day with 3 different activities

which are:

1) Essay Writing (State Level)

2) Drawing and Painting

3) Pick and Speak (Extempore) on Swami Vivekananda's ideology.

Students and faculty from the college were invited to be a part of this program. Most active participation was from the 1st and 2nd year engineering students who were very enthusiastic to participate in all of these events.

18. Litter-free Lalbagh (19th January 2020)

On the occasion of Republic Day, the flower show at Lalbagh from January 17th to 26th, 2020 was dedicated to Swami Vivekananda to mark his 157th birth anniversary. Saahas, a non-profit organization, collaborated with NSS RVCE to help Lalbagh organize a litter free flower show from 17th -26th January 2020. Volunteers of NSS unit of RVCE participated in this event to spread awareness about proper waste disposal and segregation. The volunteers were given a set of questions to interview people visiting the flower show to receive a better insight into the litter problem faced by our country and how it could be improved.

19. UTSARGA MARATHON (16th February, 2020)

NSS RVCE conducted its flagship event - Utsarga Marathon on 16th of February, 2020 in and around RV College of Engineering. The motto of the marathon was – "Help a child- Change the world". The money raised from this would be given to identified underprivileged and needy children. Marathon makes people aware about the importance of physical fitness and understanding social responsibility. The event received an overwhelming response, not only from the students, but also professors of the college and general public, as many people flocked in to participate. Participants were provided with a t-shirt, and a BIB number before the starting of the marathon. Refreshments were provided at strategic points during the marathon, followed by re-energizing breakfast after the marathon.

20. WORLD ENVIRONMENT DAY 2020 (5th June, 2020)

A webinar was conducted on the occasion of "World Environment Day 2020" with the theme: Biodiversity – Time for nature, to instill a responsible commitment towards the resourceful Mother Earth. The event was made successful by the eminent speaker Dr.D.N. Ravi Shankar, member of advisory committee of Lalbagh and Cubbon park, Government of Karnataka. The topic of discussion was, "Green Technology for improving biodiversity- A case study of Lalbagh lake" and the webinar had around 250 attendees.

21. SHABD PAHELI (15th August 2020)

On the occasion of 74th Independence Day of India, NSS RVCE organised a Crossword Competition: Shabd Paheli. The competition was based on the Indian Independence Movement, Social workers and general facts about India.The objective of the event was to help remember the struggles of our freedom fighters and enriching knowledge about our incredible history. Around 70 volunteers registered for the event.

22. NSS Day celebration (24th September, 2020)

NSS RVCE observed NSS Day by hosting a virtual General Body meeting for the volunteers. The celebration started with address from the NSS Programme Officer, Dr. M Lokeshwari. The meaning and importance of NSS logo was presented. The presentation also covered areas of attention that we as student volunteers of NSS could work upon. The meeting marked its conclusion after a fun and interactive quiz, which was hosted on Quizziz Platform. The questions were based on general facts and history with respect to National Service Scheme (NSS).Active participation from a lot of volunteers was received for the quiz as well.

23. REGARD BEFORE DISCARD (2nd October 2020)

On the occasion of 151st Birth Anniversary of Mahatma Gandhi and Rashtriya Swachhta Diwas, NSS RVCE organised a first of its kind 'Regard before Discard' event. To encourage the principle of Reduce, Reuse and Recycle.

As a part of this event the participants were asked to make creative art works out of discarded items or materials. The event had two categories, namely,  

No paper painting

Best from Waste

The event witnessed enthusiastic participation not only from the students of RV College of Engineering, but also from people across the country. The event received 57 registrations in total.

The participants were asked to create the artwork at the comfort of their own houses and post pictures of their work on Social Media and tag NSS RVCE in the process. The entries were then judged separately for both the categories. 

24. SECRET TO SELF-COUNSELLING (30th October 2020)

NSS RVCE in association with Mr. Rishabh Jain, Founder, Reform Training and Consulting, organized a webinar, "Secret to Self-Counselling", to help the student community with career planning and decision making. The main focus of the webinar was to introduce the concept of "Ikigai" to  the audience. Ikigai is a Japanese word which translates to "a reason to live". All the attendees were very satisfied and gained clarity about their true calling by attending the session.