Pre-placement Activities
The department of MCA conducts a series of training for the students to prepare themselves for placements. The various trainings include
English sessions are conducted during 1st & 2nd semester and evaluated at the end of the semester.

Aptitude and soft skills trainings are given to the students in the 3rd and 4th semester and evaluated at the end of respective semester.

Lab skill sessions are conducted for 1st and 2nd year students and evaluated at the end of every semester with online tests.

Extra mural projects are given for 2nd and 3rd semester students and evaluated at the end of every semester.
Placement 2018-19
The students of MCA course have got job opportunities in software companies like JP Morgan, Texas Instruments, HSBC, Cerner, Yahoo, Accenture, Infosys, Genpack, Covance and many more companies. The placement records of the MCA students have been exemplary. The department has very good placements and internships in reputed IT companies.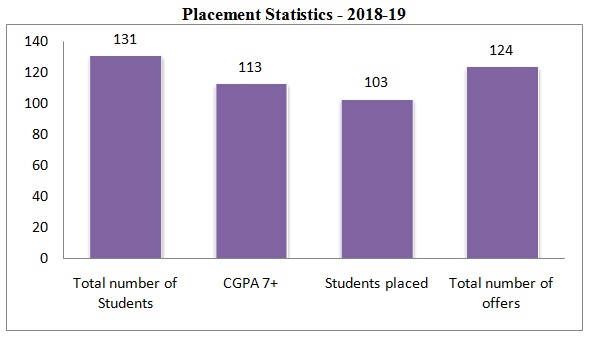 Highest Salary is 12.5 lakhs, Lowest Salary is 3.6lakhs and Average Salary is 4.5 lakhs.
Ongoing placement 2019-2020
| | | |
| --- | --- | --- |
| Name of company | CTC | Number of Students placed |
| JP Morgan & Chase | 12lpa | 1 |
| Bidgely | 12lpa | 3 |
| JSOL | 25lpa | 1 |
| Synapse | 19lpa | 2 |
International Placement- 3
Department Alumni Entrepreneur
Mr. Puneeth Krishna S, an Alumni of 2012 batch is a Director, Head Client Relations, TECTROP Solutions Ltd, Bengaluru

Mr. Adnan Shamir, an Alumni of 2011 batch is aCEO, HouseSkill Education Solutions, Bengaluru

Mr.Himanshu Dwivedi , an Alumni of 2003 batch has an US patent to his credit in " System and method of I/O path Virtualization for a RAID controller and Environment Service Module in Storage Area Network"
Department Distinguished Alumni
Ms. Amrutha A, of 2014 batch,  recieved "Best Outgoing Student" award from Cerner Technologies, Bengaluru

Mr. Sujan M, an Alumni of 2011 batch , recieved "Outstanding Applause" award from Deloite, Bengaluru

Mr. Ujwal Adiga, an Alumni of 2011 batch , recieved "Delivering Outstanding Performance"  award from Accenture Services Pvt. Ltd.,  Bengaluru

Mr. Dhriubajyothi Sadhu, an Alumni of 2011 batch , recieved "Star of the Quarter" and " On the Spot" awards from Accenture Services Pvt. Ltd.,  Bengaluru

Ms. Shruthi M, an Alumni of 2011 batch, recieved one silver and two bronze awards for her performance from Informatica, Bengaluru

Mr. Akshay V. Gadag , an Alumni of 2011 Batch, recieved "You Earned It" award from Fidelity India Pvt. Ltd., Bengaluru

Ms. Rathi R, an Alumni of 2010 batch , recieved "Fair Player" award from Murrai Information Technologies, Bengaluru

Mr. Saket Goenka, an Alumni of 2003 batch , recieved "Instant Karma", " Dream Team" and " Super Achiever" awards from Accenture Services Pvt. Ltd.,  Bengaluru

Mr. Avinash Makam, an Alumni of 2003 Batch, recieved "SOPT award from Personal Excellence" from Huawei Technologies India Pvt. Ltd., Bengaluru