Department Achievements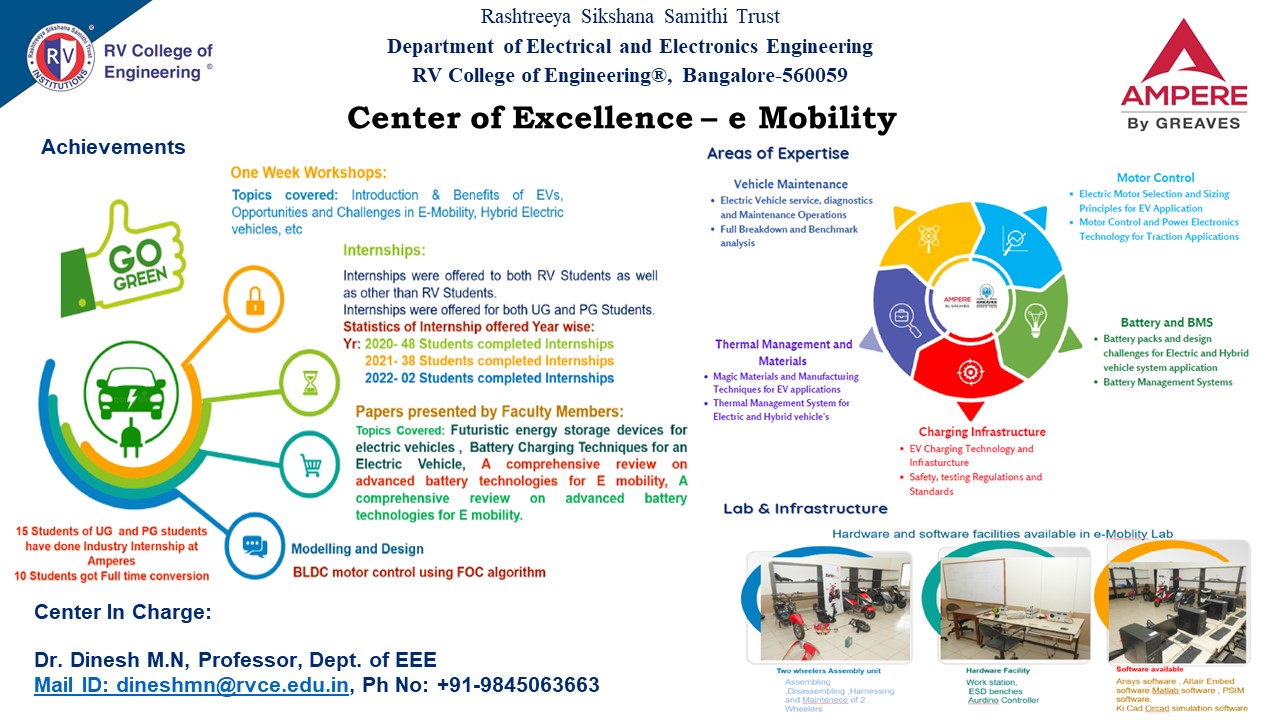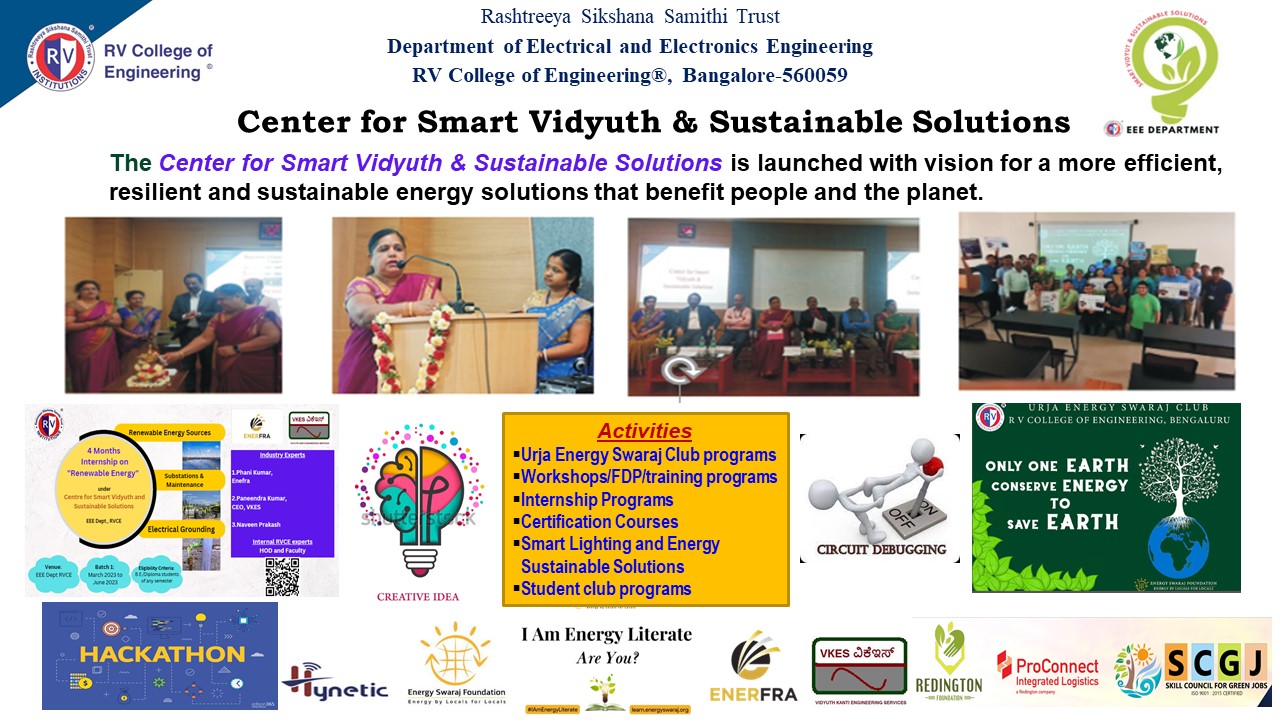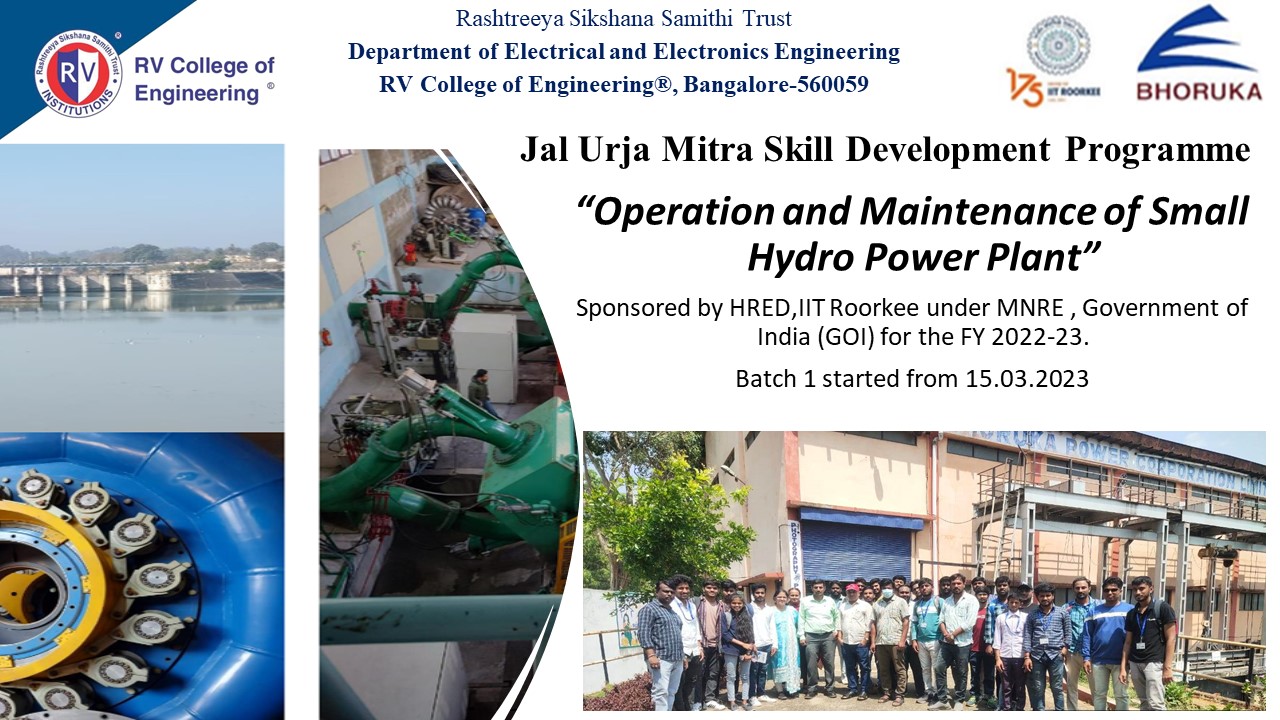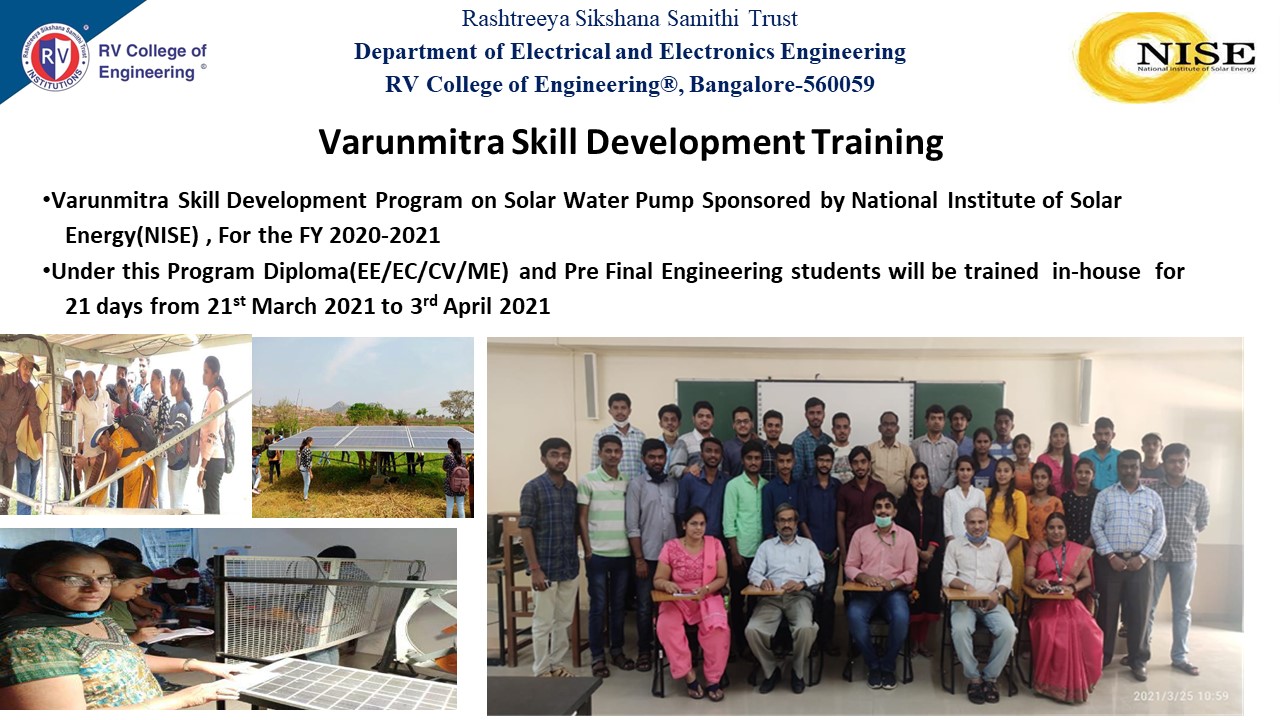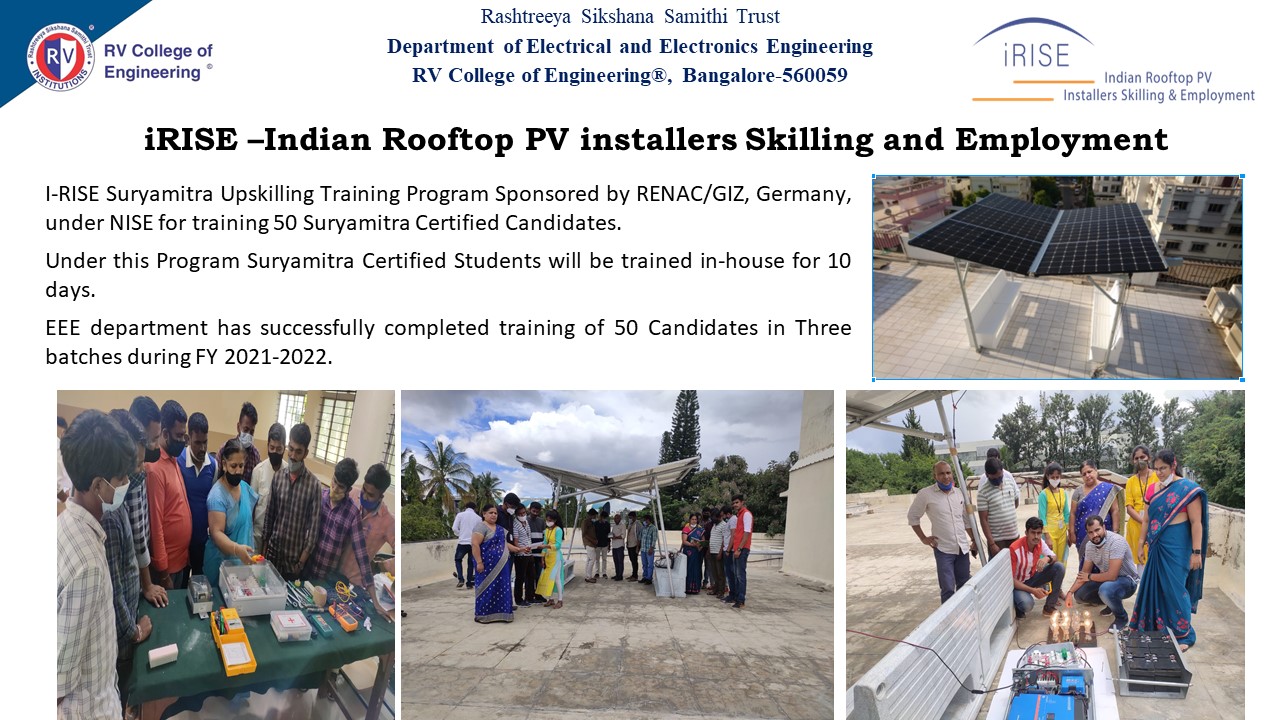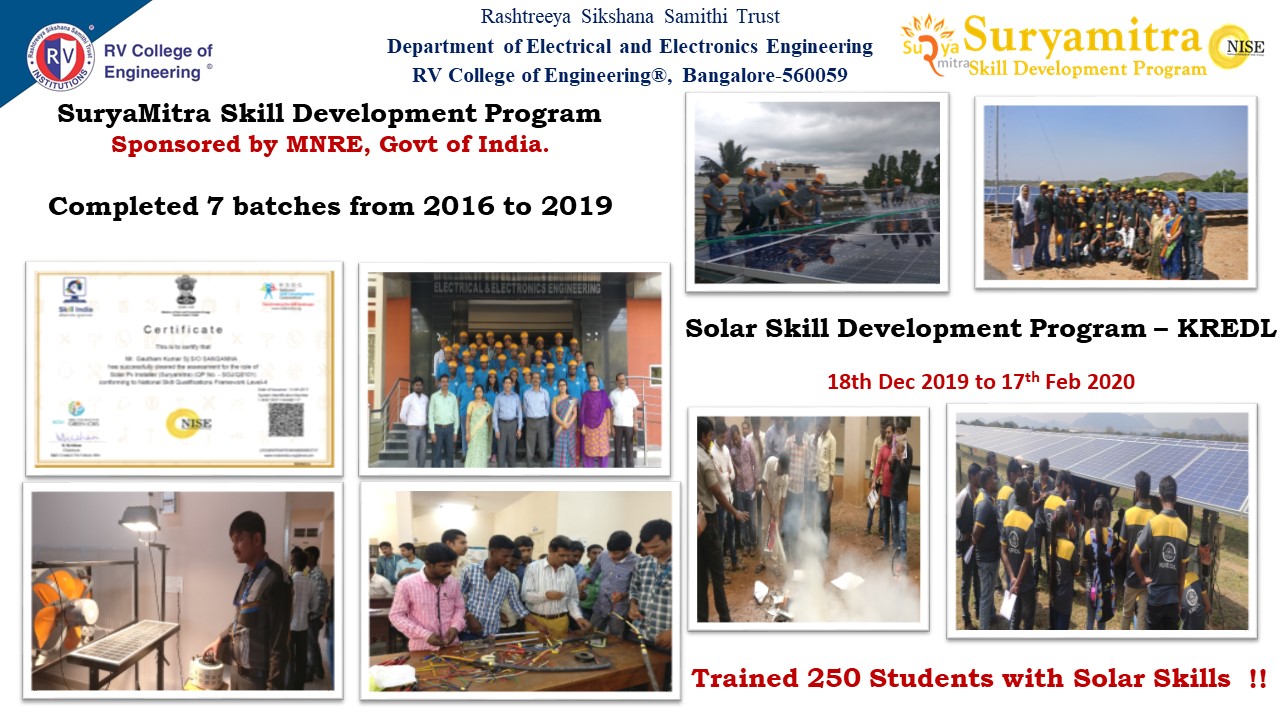 Faculty Achievements and Awards:
Number of Faculties with Doctorate degree in the department: 12
Number of Faculties Pursuing Doctorate Degree: 04
Dr. S G srivani, Lifetime Achievement Award by INSO Awards "International Scientist Award-2022"

Dr. S G srivani, Expert Primary evaluator of Toycathon, under Ministry of education's innovation cell and AICTE

Dr. S G srivani,  one of the winners for the seed funding by IFERP 

Dr. S G srivani, Recognised as Expert reviewer for  NIF INSPIRE AWARD MONAK  Organised by Nationsl innovation foundation ,INDIA 

Dr. S G srivani, "Global Excellence Award" for the research work  from Friendship Forum of India (FFI),New Delhi in August 2013

Dr. S G srivani, Best paper award and session chair or two sessions and invited speaker at WCE-16 international conferences at Imperial collegeLondon ,UK on 29thjune -1stjuly 2016-sponsored by TEQIP-RVCE

Dr. S G srivani, Best presentation Award at ICETI-19 Las vegas USA by academic world international conference ,USA

Dr. G S Anitha, Received

award for Excellence

and Leadership in Education on 27th Aug 2022 as

"Innovative Education Leader Award"

. It's one of the Golden AIM Awards.
Dr. Anitha G S, honored at world Education congress as

Prof.INDIRA PARIKH 50 WOMEN IN EDUCATION leaders

on 5th July 2019 ,at TAJ LANDS END,MUMBAI.

Dr. Anitha G S, honored as BEST PROFESSOR, ELECTRICAL and ELECTRONICS Engineering by GOLDEN AIM AWARDS for excellence and Leadership in Education on 19th June 2020.

Mrs. Sushmita sarkar, delivered online lectures for VTU e-sikhana on Power System Analysis-2 and Power Quality.

Mrs. Rajavidya has recieved Excellent Performer award in RVCE for the year 2021-22.
Faculty achivements
Sl No:

Description

Number

1

No. of  faculty with Ph.D

12

2

No. of faculty received Ph.Ds in the last 3 years

05

3

No. of faculty persuing  Ph.D

04

4

Publications (From August 2019 till date)

Scopus

Web of Science

  

97
33

5

Books Published/ Book Chapters (IK International, Wiley India/Springer)

15

6

Members of BoS/BoE/Research Committee (NIE, DSCE, SIT, PESIT, Alliance University, VIT)

32

7

Reviewers (Elsevier, JEET, Springer, IEIB-Springer, ACEEE, WSE, International Conferences)

08

8

Visited abroad for conferences (TENCON2015-Macau,ISGT2016-Australia, IAENG2016-London, IEEE-PES Meeting-Boston)

05
| | | |
| --- | --- | --- |
| Sl No: | Description | Number |
| 9 | Session Chairs (TENCON, ICREPQ, IEEE-PES, ICPACE, NCATEE, ICCIIS) | 10 |
| 10 | Involved in R&D/Consultancy (CPRI, Schnieder, DST, MNRE-NISE, CISCO, TE, Durag India) | 08 |
| 11 | Technical Talks Delivered (From August 2019 till date) | 05 |
| 12 | IEEE-PES R10(Asia Pacific) Representative for Student Activities | 01 |
| 13 | Subject Expert in EDUSAT Programs (Computer Techniques and Models in Power Systems, Logic Design, Analog Electronics, Software Architecture & Design, Network Analysis) | 03 |
| 14 | NPTEL Content Development (Signals & Systems) | 01 |
| 15 | Members in professional societies (ISTE, IEEE, IEI, IEEE PES) | 21 |
Patents Awarded:
Sl. No.

Title

Inventors

Patent Number/Year

Status

1

Piezoelectric Vibration Energy Harvesting Device

Dr. S G Srivani

Dr. Adinath Jain

Dr. J. N. Hemalatha

Mrs. Sunanda C

Dr. R. Mahesh

Dr. C. Nandeesh Kumar

384557-001/2023

Filed

2

Solar Inverter

Dr. S G Srivani,

Dr. Hemalatha,

Dr. Adinath Jain,

Mrs. C. Sunanda

364441-001/2022

Granted

3

Photovoltaic Solar Power Generation with Maximum Power Point Tracking

Dr. Vandana Jha

202241069785/2022

Published

4

A Hybrid Tractor Adaptable to Both Agricultural and on Road Applications

Dr. Jayapal R

Mr. Abhishek P B

Mr. Srinidhi H S

Mr. Rukmini A G

Mr. Vinay B Y

397516/2022

Granted

5

A Field-Control Hybrid System

Dr. K. Uma Rao

Mr. Ashad Farhan

Mr. Joy Chakraborty

Mr. Vishwanath T U

201841019427/2019

Published

6

A System and Its method for Minimizing the Value of Voltage Regulations

Dr. K. Uma Rao

Dr. Anupama Prakash

Mr. Anurag Kumar

201711030834/2019

Published
Faculty Paper Publications Yearwise:
Year

No. of Publications (Scopus)

No. of Publications (Web of Science)

 

Journals

Conferences

Book Chapters

Total

Journals

Conferences

Total

2019

06

14

01

21

01

09

10

2020

14

13

02

29

04

04

08

2021

09

06

03

18

05

02

07

2022

12

06

03

21

08

00

08

2023*

 08+
Faculty Google Scholar Data:
| | | | | |
| --- | --- | --- | --- | --- |
| Sl. No. | Name of the Faculty | No. of Citations | h-index | i10-index |
| 1. | Dr. S. G. Srivani | 700 | 9 | 9 |
| 2. | Dr. Dinesh M. N. | 166 | 8 | 8 |
| 3. | Dr. V. Chayapathy | 6 | 1 | 0 |
| 4. | Dr. Anitha G. S. | 157 | 6 | 4 |
| 5. | Dr. J. N. Hemalatha | 19 | 3 | 0 |
| 5. | Mrs. C. Sunanda | 22 | 2 | 1 |
| 6. | Mr. C. Suresha | 2 | 1 | 0 |
| 7. | Dr. Adinath Jain | 3 | 1 | 0 |
| 8. | Dr. Madhu B. R. | 23 | 2 | 1 |
| 9. | Dr. K. M. Ajay | 68 | 4 | 3 |
| 10. | Mrs. Sushmita Sarkar | 20 | 3 | 0 |
| 11. | Dr. D. G. Abhilash Krishna | 71 | 5 | 2 |
| 12. | Dr. Parth Sarathi Panigrahy | 106 | 7 | 5 |
| 13. | Dr. Pandry Narendra Rao | 31 | 3 | 1 |
| 14. | Dr. Vandana Jha | 136 | 6 | 4 |
Students Achievements and Awards :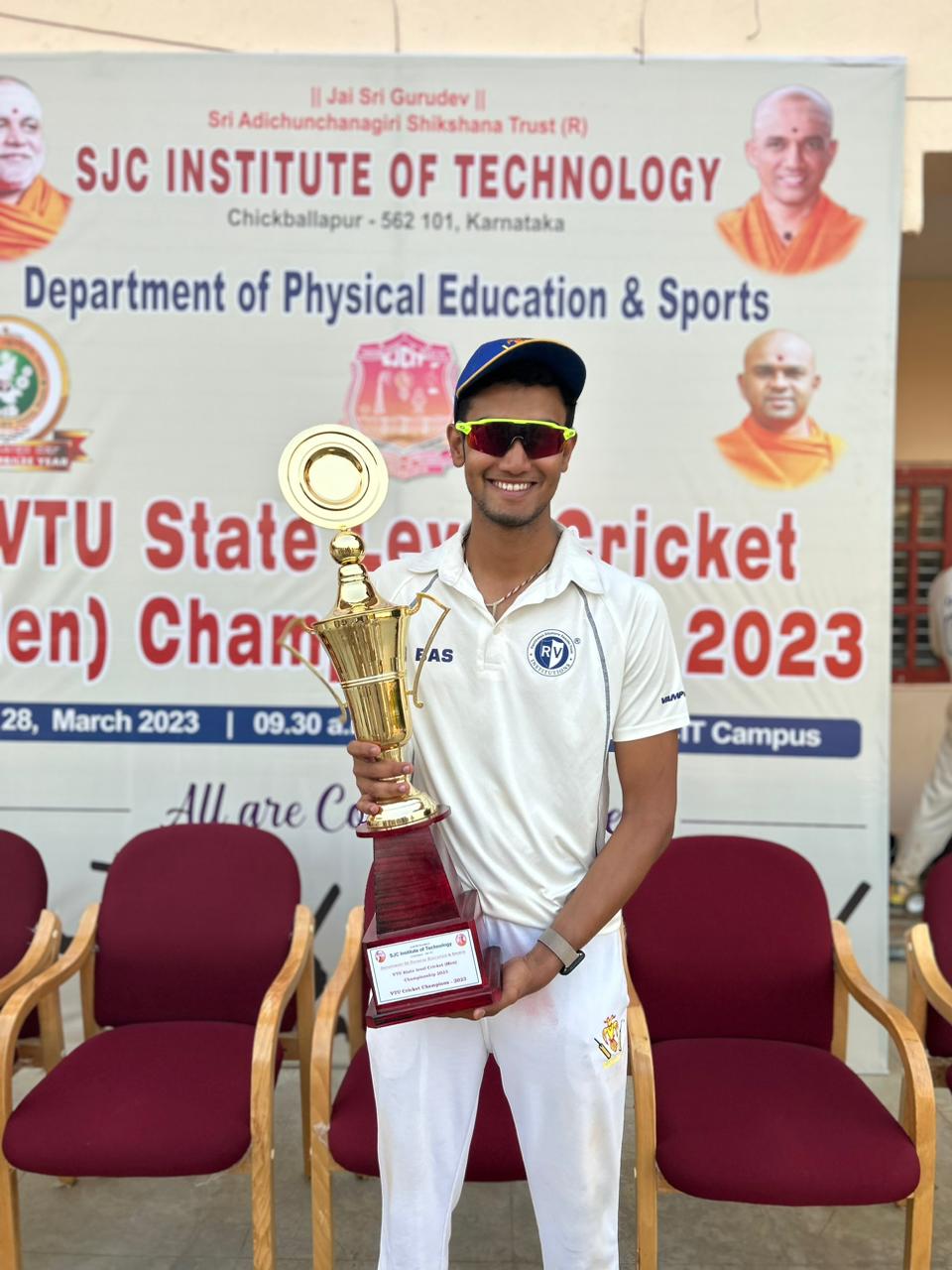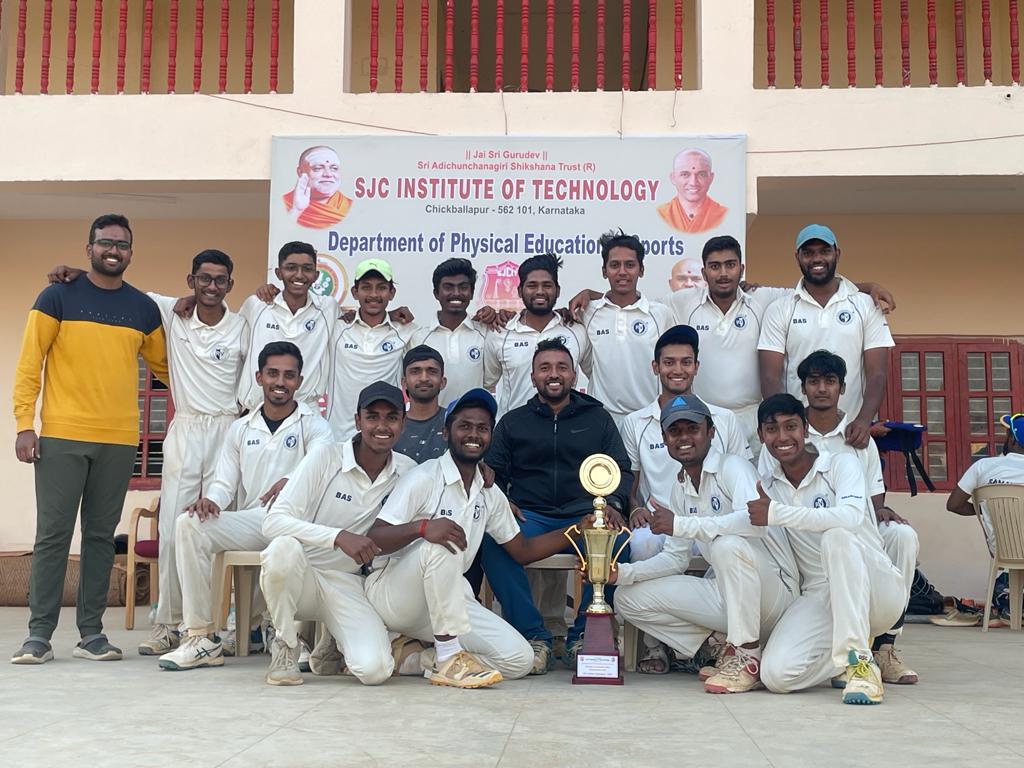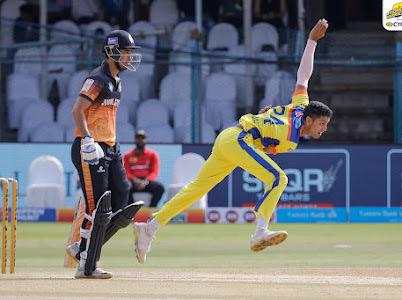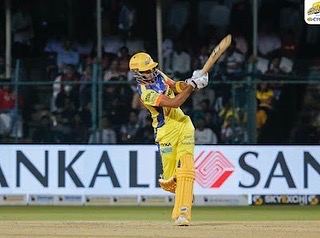 Mr.Lochan Appanna 1st Year M.Tech (P.E) Student
Captain of RVCE Cricket Team

Champians of VTU state Level Inter Zone Compitation March 2023.

Participated in international Series against USA

Participated

Karnataka U25 Cricket Team for the BCCI COL CK Nayudu Trophy (National)

Winner of VTU state level inter Zone Cricket championship.

Participated

In Karnataka Premire League Represented Mysore Warriors
PG ( M.Tech Power Electronics)
SL NO

USN NO

Name of the Student

Year of passing out

Rank

1

1RV16EPE14

UJJVAL B VYAS

2018

I

2

1RV16EPE09

PRAMOD V

II

3

1RV16EPE13

SHRUTHI YARASHI A

III

1

1RV17EPE07

KAVYA E

2019

I

2

1RV17EPE10

SACHITH J V D SOUZA

II

3

1RV17EPE08

KAVYASHREE A L

III

1

1RV18EPE13

TRIVENI K T

2020

I

2

1RV18EPE14

VARSHA MAHAVEERA PATIL

II

3

1RV18EPE15

VIDYASHREE K R

III

1

1RV19EPE10

PRIYANKA V V

2021

I

2

1RV19EPE14

SHREEYAS PRAVIN S

II

3

1RV19EPE12

SAHARA PATIL

III

1

1RV20EPE07

MONISHA J R

2022

I

2

1RV20EPE02

GANGADHAR MALINGAPPA AKKI

II

3

1RV20EPE17

VARSHITHA R

III
Publication Details of PG students
| | | | |
| --- | --- | --- | --- |
| Year | International Journals | International Conferences | Total |
| 2021-22 | 22 | 03 | 25 |
| 2020-21 | 16 | 00 | 16 |
| 2019-20 | 09 | 03 | 12 |