Conferences, Workshops & Proficiency courses
The Department conducted a 5 days workshop on Analog VLSI Layout Design from 20th to 24th september 2022.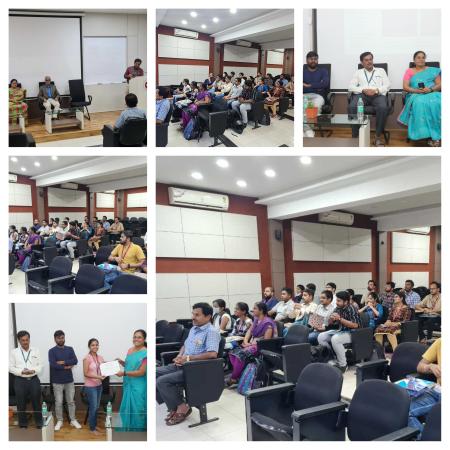 POP UP Courses
The Department of introduced a student activity called Pop-up Courses. Pop-up classes are short co-curricular workshops that offer students an opportunity to engage in new topics, or activities not typically covered in the curriculum. This could be coding language, or other topics which are not covered in the four-year study of BE program. Students would have gained additional knowledge by self-learning on the topics which are not usually covered in the curriculum. It would be a great opportunity for them if they share the additional topics to their juniors/ or their batch mates. This would bring out the teaching potential in them, improvising the communication skills which would in turn give value addition to their resume. Students exhibiting such activities are well appreciated even in industries.
The following are the pop-up courses conducted by the department in the even semester of 2021.
1. Antenna Design and Optimization using HFSS ADK toolkit.
Speakers - NIKHIL S K, SAURAV KUMAR, 6th Sem ECE students of academic
year 2020-21
Dates - June 14 th 2021 to June 18 th 2021
Number of participants attended - 115
2. Ethics in Engineering Practice
Speaker - V DHANUSH, 4th Sem ECE student of academic year 2020-21
Dates – June 28 th to June 30 th 2021.
Number of participants attended - 13
Technical Talks and Webinars oragnised during 2019-20 Click here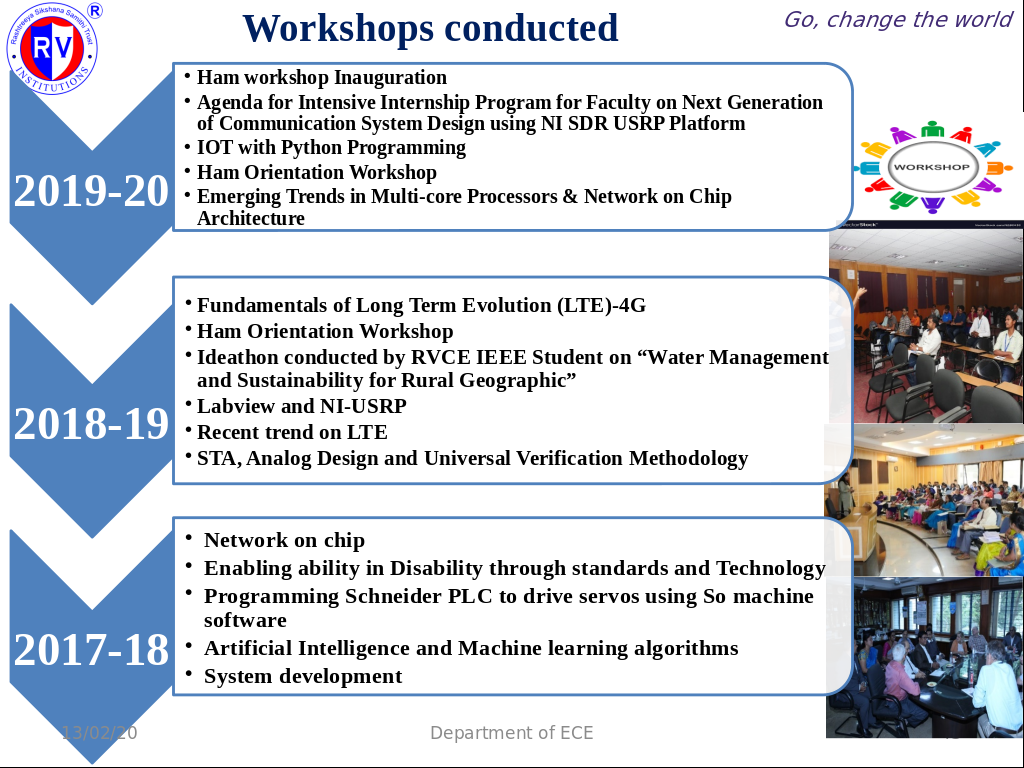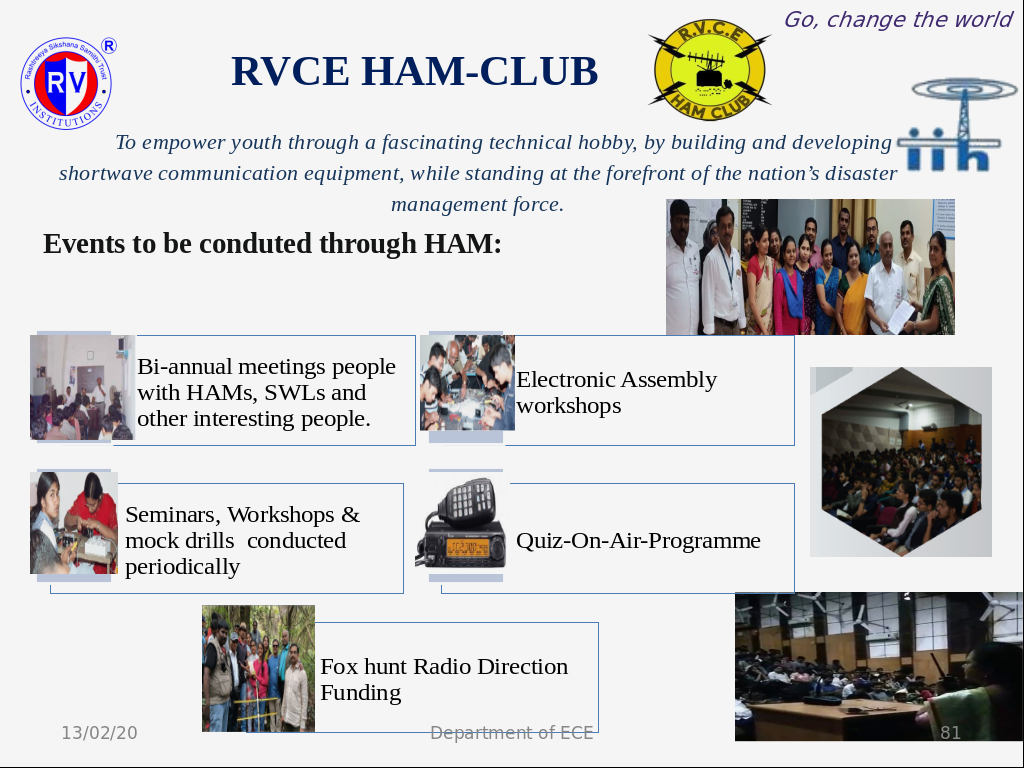 Five Days Workshop on "Fundamentals of Long Term Evolution (LTE)-4G"  held from 26th -30th September 2018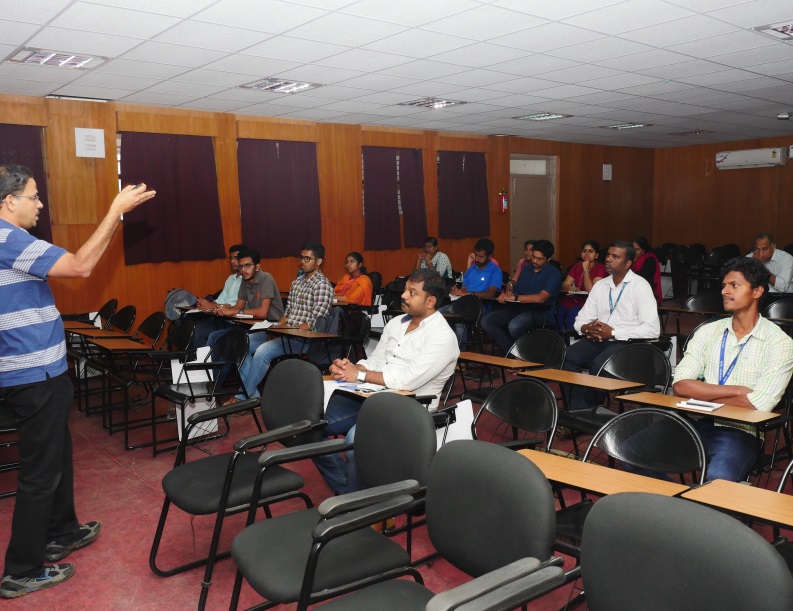 ESSAY CONTEST on the topic "SPINNING WHEEL TO SATELLITE" & KHADI EXHIBITION under Center for Gandhian Principles and Value Based Education , 9th to 12th October 2018.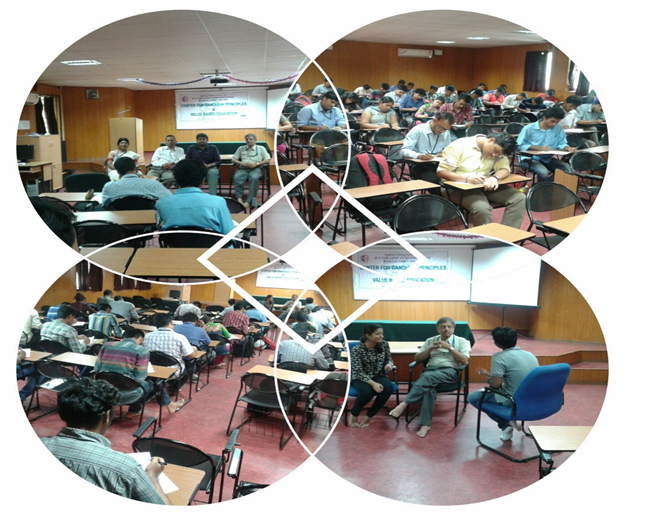 Workshop on Basics of Python for 4th semester students on 28/05/2022

Antenna Building workshop an initiative by HAM Club 28/05/2022

Ham orientation workshop on 26-05-2018

Ideathon by IEEE student Chapter on 20-03-2018

Workshop on LABview and NI-USRP by Mr. Nilutpal Choudhury (Labview and RF consultant) from National instruments on 01-03-2018 to 02-03-2018

5 Days Workshop on "Recent Trends in LTE" from 29-01-2018 to 02-02-2018.

Workshop on "Network on Chip" from 18-12-2017 to 19-12-2017.

IEEE AAC Hackathon on 23-09-2017

Workshop on Artificaial Intelligence  and Machine Learning Algorithms by Mr.Parth Sharma (CEO of knightsRoboCorp) on 09-09-2017.

Proficiency course on Python programming Language from 19th-23rd june 2017

Proficiency course on Design and Implementation of Electronic Circuits with PCB design from 25th - 30th July 2016

Proficiency course on Signal Processing on DSP and Application Development on ARM Cortex M4 MCU from 25th - 30th July 2016

Proficiency course on Industrial Automation from 18th - 23rd July 2016

Proficiency course on Analog RFIC Design from 2nd - 6th July 2016

Proficiency course on Relational Data Base Management Systems using Oracle Database System from 6th - 11th June 2016

Proficiency course on "Silvaco TCAD device simulation" for students from 15th -20th June 2015

Workshop on "Embedded processors & applications" for technical staff from 13th – 17th July 2015.

Proficiency course on "Wireless sensor network" for students from 20th – 24th July 2015

National Conference on "ICT innovations for sustainability" 16th – 17th May 2015

National Conference on "Research challenges in power control, communication & instrumentation leading to sustainable technology" 24th – 25th April 2015

Two days workshop on "Silvaco TCAD/EDA full design tools" 15th  -16th April 2015

One day Workshop on Sensors, Systems for ICT enabled agriculture" on 27 March 2015

Four days Workshop on "Advanced solar PV technology" on 21st – 24th Feb 2015

International Conference on "Large Area and Flexible Microelectronics(ILAFM-2014)" 18th – 20th December 2014

National Conference on "Emerging opportunities in Broadband for Sustainable development "15th – 17th May 2014

"Dissemination Workshop on UnderStudents: water Video Compression Algorithms" on 30th December 2014

Workshop on "Xilinx FPGA Solution for DSP and Embedded System Application with Demonstration of Analog Discovery kit"  on 4th September 2014

Six days workshop on "Trends in underwater communication and SONAR"  14th to 19th July 2014

Workshop on "Fabrication and characterization of thin film sensors" under TEQIP-1.2.1 COE-Macroelectronics from 17th to 19th March 2014

Workshop on "IC and system design using EDA tools" 6th to 11th January 2014

Workshop on "Robotics" on 1st - 2nd November 2014

Workshop on "Low Power Digital Design Course" 24th -26th March 2014
Technical talks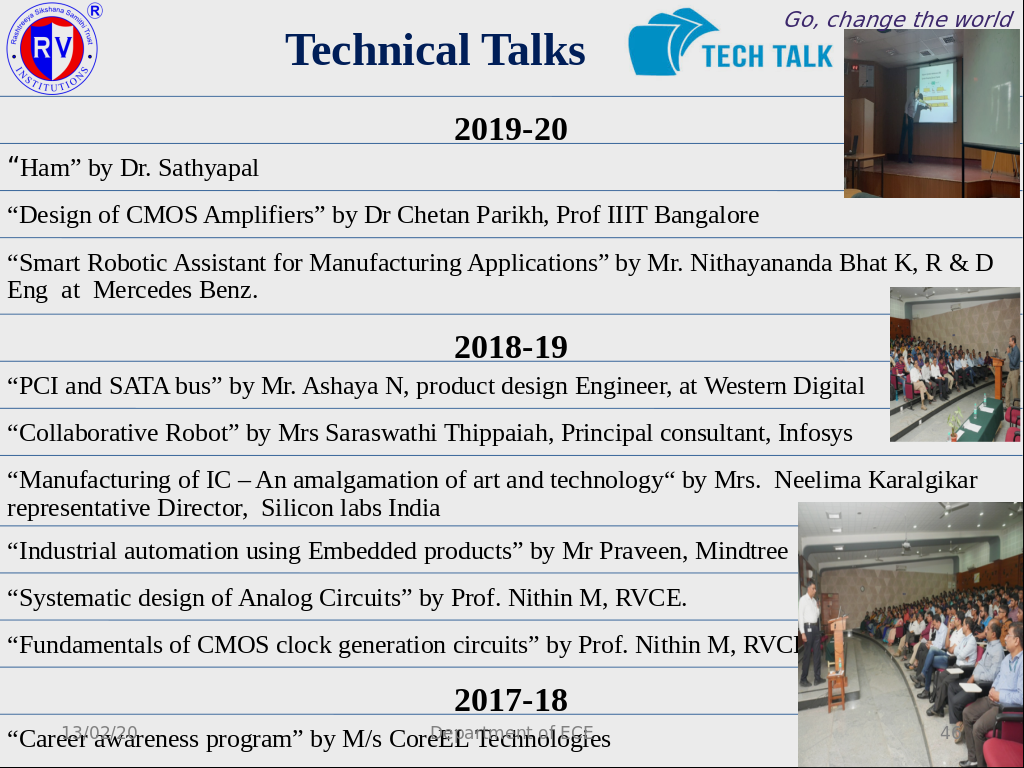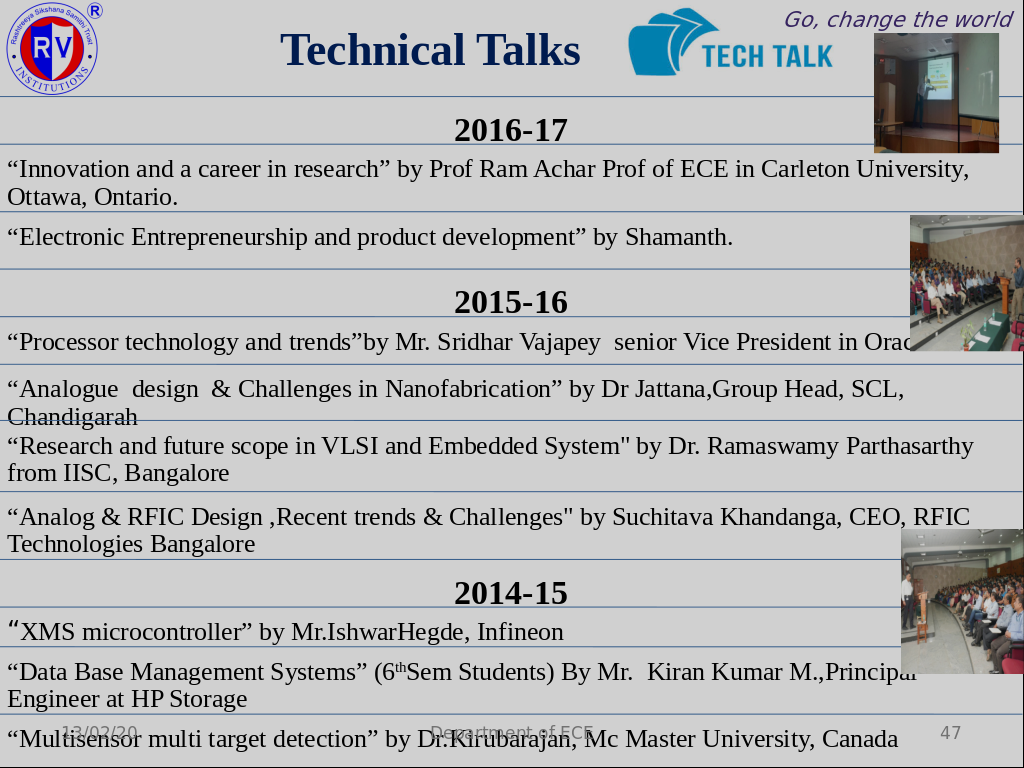 | | |
| --- | --- |
| Technical talk on | Date |
| Voltage Controlled Oscillator and Phase Locked loop by Manjunath B P | 24th August 2022 |
| Accelerate Vigyan Workshop on Custom IC Design using EDA by Dr. Nithin M. | 1st March 2022 |
| Introduction to Microwave and Communication Systems by Dr. Mahesh A | 13th April 2022 |
| Assistive Tecnology-Bridging the GAP by Georgr Sabastian | 5th july 2022 |
| Advanced Digital Communication by Dr. Mahesh A and Dr. Shushruth K S | 26th to 28th May 2022 |
| "Human Brain,Engineering and Mysticism" by Dr. N Rangaprakash | 23-10-2019 |
| " Career Guidance" by Mr. Harish Mouli and Ms Janani Ram | 22-03-2018 |
| " Robotics for Industrial Automation" by Mr. Raghu B N Senior Engineer G K Machineries and Robotics India Pvt Ltd | 27-02-2018 |
| "Higher Studies opportunities in IITs" Career guidance by Dr. Janaki Raman (IITM) | 19-01-2018 |
| "Innovation and Career in Research" by Prof. Ram Achar | 08-12-2017 |
| "Embedded System Design" for 5th sem UG students by Mr. Veerendra Vasamshetty Schneider Electric Pvt Ltd. | 13-10-2017 |
| "Electronic Entrepreneuriship and Product Development" by Mr. Shamanth S CEO of Oscki Labs Bengaluru | 11-09-2017 |
| "Opportunities in Microwave and its Applications" by Dr. P raghavendra Rao Scientist G DRDO Labs | 14-07-2017 |
| "Career Guidance" by Vishwaniketan UG fellowship | 04-04-2017 |
| " Home and Industry Automation" by Mr. Muruli Srinivasa EtaPro Technology Bengaluru | 15-03-2017 |
| "Semiconductor Technology" By Shreedhar Vajpaye VP of Oracle USA | 14-03-2017 |
| " Career Awareness for 2nd sem PG VLSI Design and Embedded System Students" by Mr. Arun J M CoreEL technologies | 10-02-2017 |
|   |   |