Department has MOUs with Karnataka State Sericulture Research & Development Institute,Intel Technology India (Pvt) Ltd, Intel NxP semiconductors, Texas Instruments, Cranes Software International Limited,Freescale Semiconductor India Pvt. Ltd, Samsung Semiconductor India Pvt. Ltd and Infineon Technologies
Faculty Achievements
Research Activities
Total Research grants fetched by ECE faculties through various funding agency (till now) is 1610 Lakhs

Total Consultancy grants fetched by ECE faculties through various Consultancy Activities is 118 Lakhs

Department received 17 Lakhs grants from AICTE Share & Mentor Scheme called Margadarshan-2018.

Total number of Patents granted is 7 and  Published is 7.

Faculty members have  published 12 Books(Author:3, Adopted:2,Reviewer:7) .

Faculty members have published 274 Scopus Indexed  Papers, 34 Papers in international workshops/ conferences/ symposiums 52 Papers in national seminar/conference/ symposium
Faculty Awards.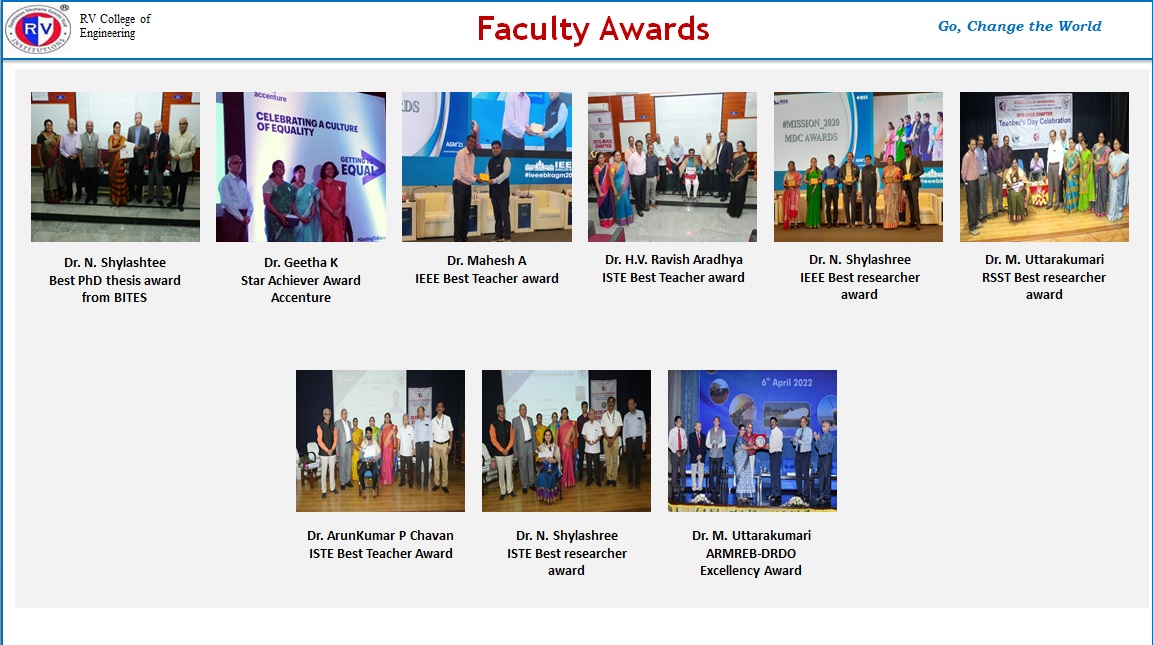 Dr. M Uttarakumari Professor  ECE dept. has received Award from ARMREB in the year 2020-21 .
Dr. Abhay A Deshpande Associate Professor ECE dept. has received the "IEI Young Enginner Award" from Institute of Engineers on 26th december 2021.
Dr.K.S.Geetha, Prof. and Head, ECE dept. has received the "Accenture Faculty award" for the year 2019 on the occasion of International Women's Day.
Books Published/Adapted/Reviewed Click Here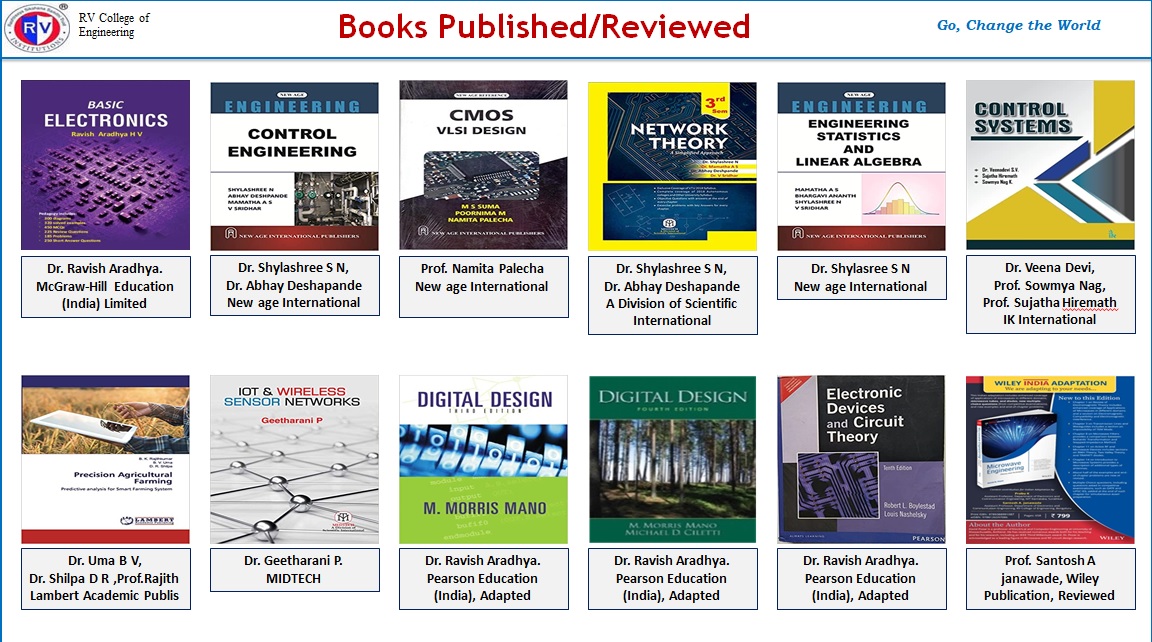 Student Achievements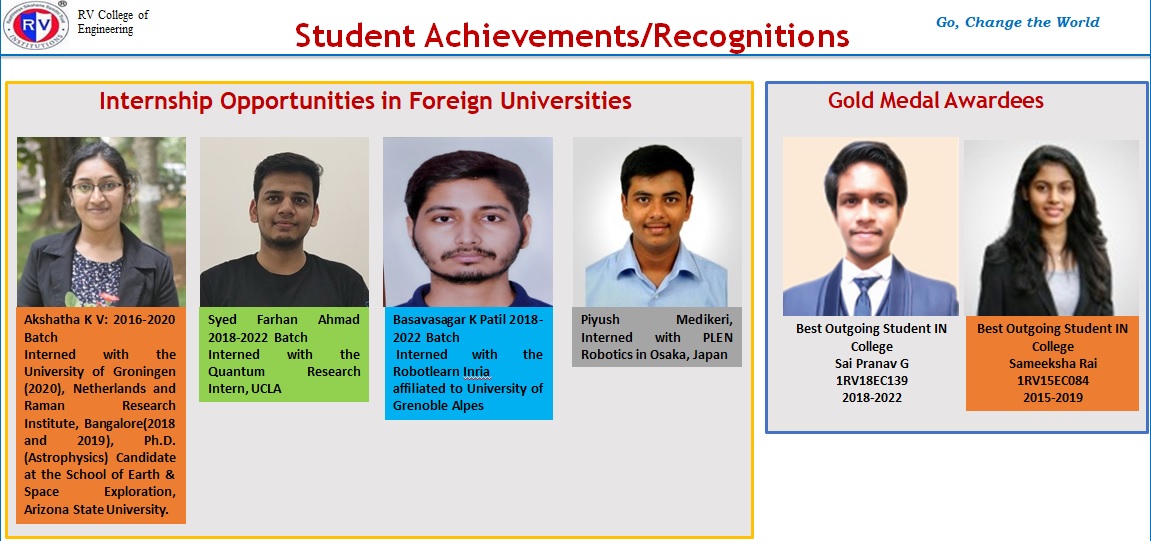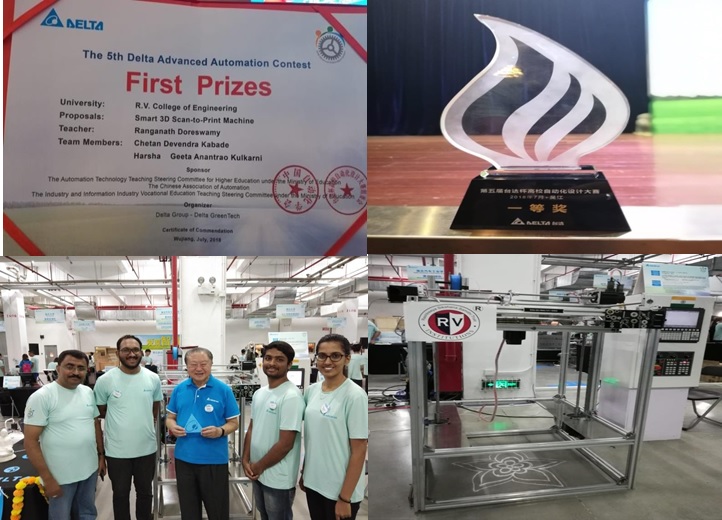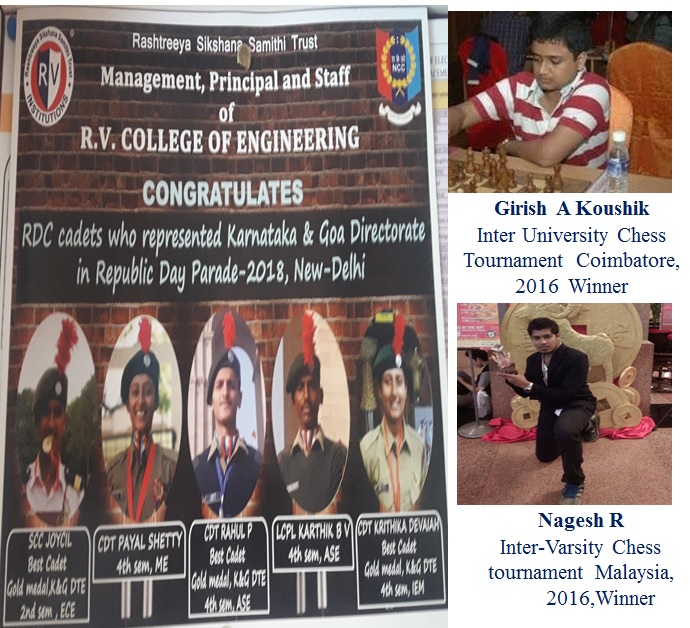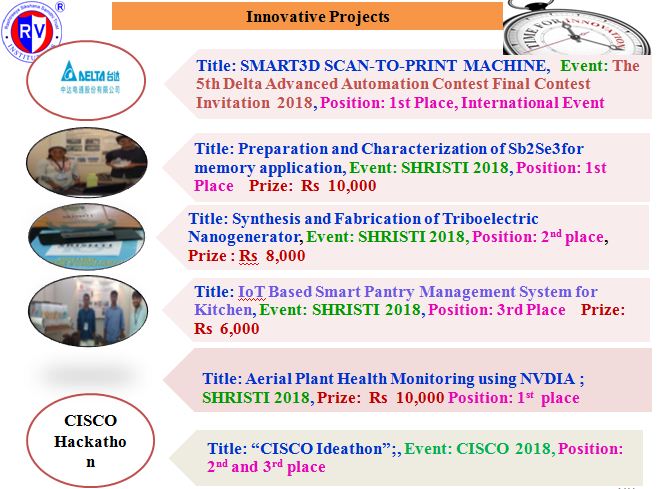 Students won the prizes in many events such as Quest Ingenium Contest 2016 - 2nd Prize,Inter University Chess tournament 2016- winner, International Inter-Varsity Chess tournament Malaysia 2016,Analog devices fellowship award 2015 -2nd Prize, Texas Instruments (TI) Design Contest 2014 -1ST Prize, IEEE Award for Ability in Disability through standard and Technology on 2015, Miss supra international winner in world event on 2014.
Students have excelled in competitive exams Viz GATE, CAT etc
Students are pursuing higher studies in IITs,IIMs and in reputed foreign universities. Some of the final Year projects adjudged as best projects .They have Excelled in national & international project competition viz.
Students have innovatively designed Solar Car,Smart insulin,Garuda,Helios,Ashwa Racing,Unmanned Aerial Vehicle (JATAYU),Unmanned Aerial Vehicle(PUSHPAK ),Automated library system
Participated, presented papers and won prizes in intercollegiate competitions at IITs and NITs.
Alumni
Distingushed aluminis from  the Department of Electronics and Communication Engineering are Rahul Hedge (IPS, Govt. of india), Gurudutt Hedge(IAS,Govt. of India), V. Ranganathan(Chairman & M D   Cerebra Computers), Chandrashekar  B.U (Manager,Synopsys), Anuchet.M.N (DCP,Govt of india), Sridhara. N (Associate Vice President,Sonata Software Ltd), Sujan Manohar (IC Design Engineer at TI),Kaushik Mudda (Entrepreneur),Ravi Talwar(Entrepreneur),Shreeshail Pattar (Entrepreneur),Abhiram(Fighter pilot,Airforce Academy),Akshatha Shrinivas (IRS,  Govt of india), Anand Nagarajan (Managing Director, Dexler Pvt. Ltd), Gopichand Katragadda (Group Chief Technology Officer)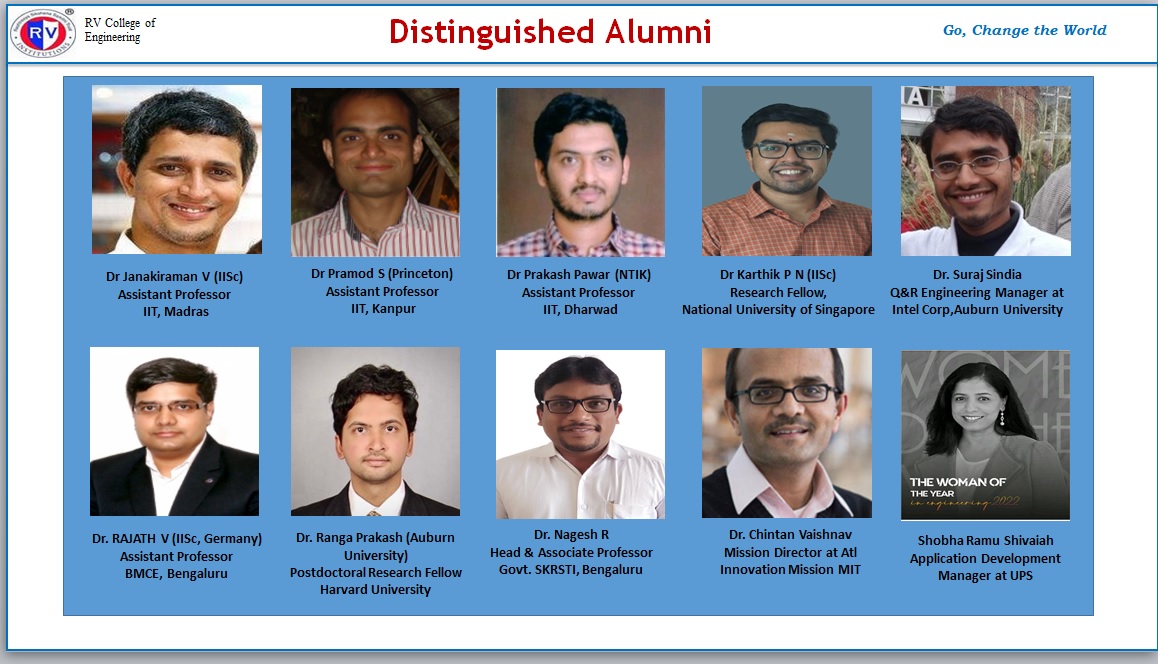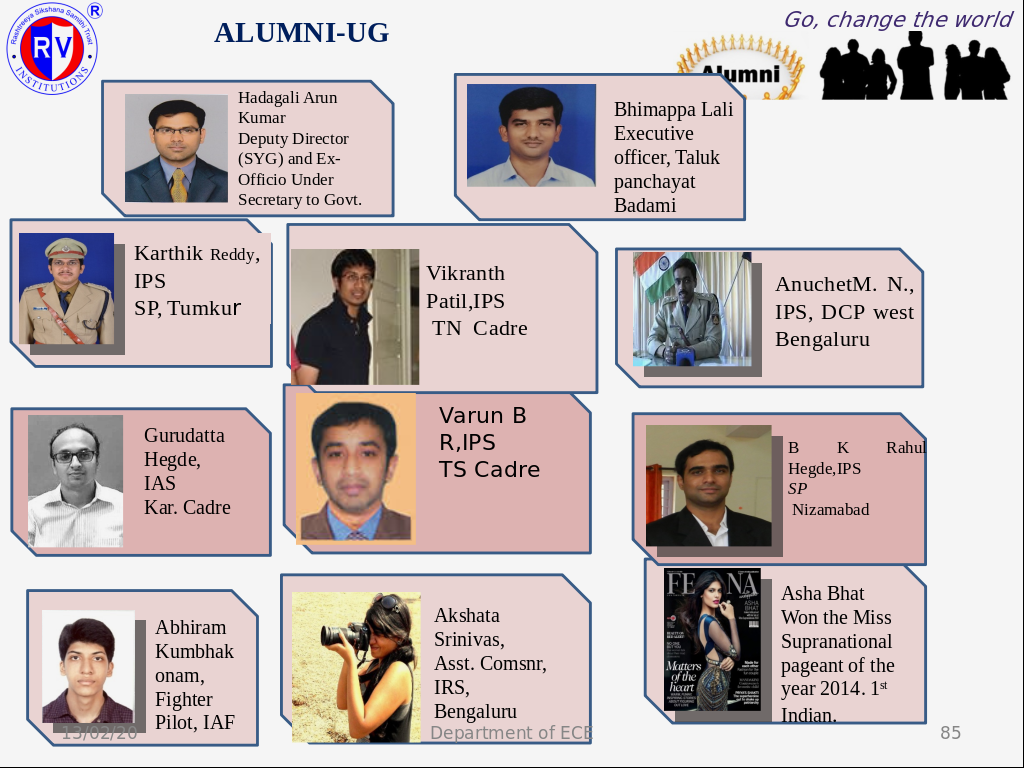 Entrepreneurship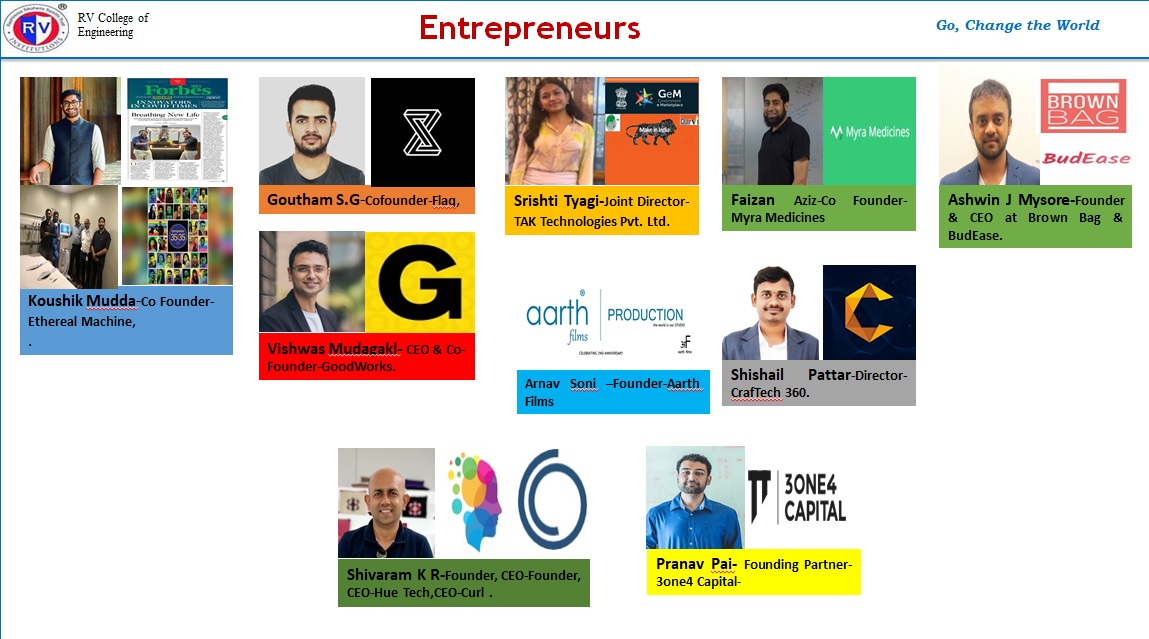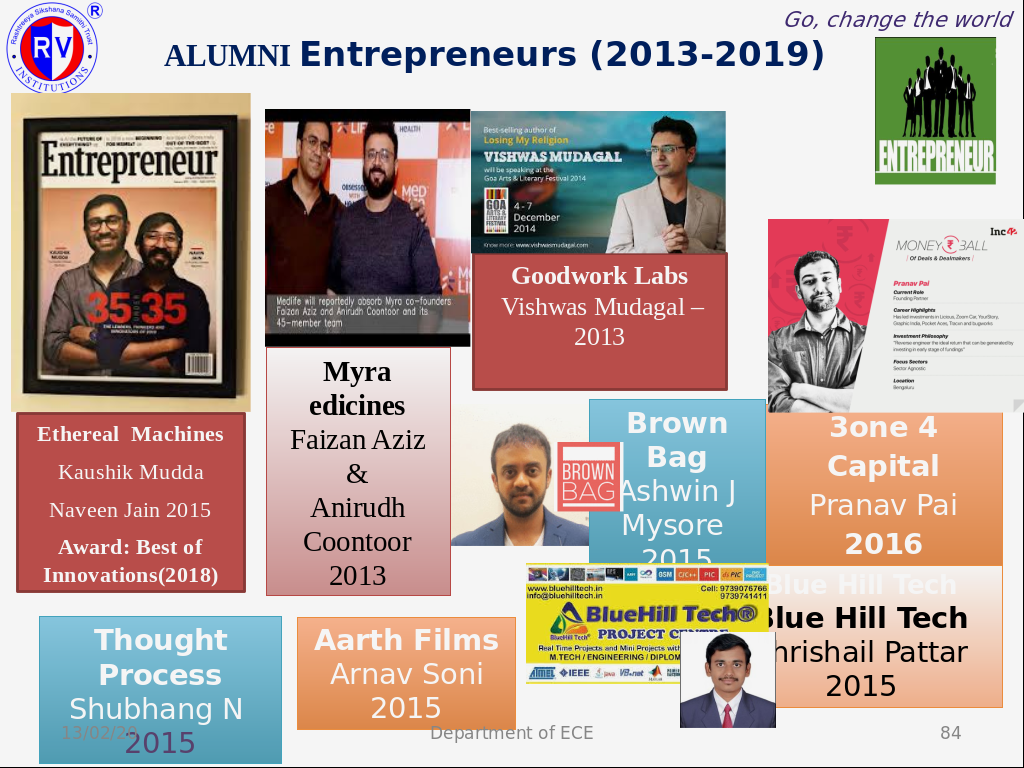 | | | | |
| --- | --- | --- | --- |
| Name of the student | Year of Graduation | Company | Year of foundation |
| ShubhangaNarashimha | 2009 | Thought process | 2009 |
| Faizan Anirudhcoontoor | 2011 | MYRA Medicines | 2013 |
| Pranav Pai | 2011 | 3 one 4 capital | 2016 |
| VishwasMudagal | 2011 | GoodWorkLabs | 2013 |
| ShrishailPattar | 2014 | Blue Hill Technologies | 2015 |
| Kaushik Mudda, Naveen Jain | 2014 | Ethereal Machines | 2015 |
| Arnav Soni | 2014 | Aarth Films | 2015 |
| Ashwin J Mysore | 2014 | BudEase | 2015 |